ACLU sues America's border cops: Tell us everything about these secret search teams targeting travelers
FOIA lawsuit demands data on Tactical Terrorism Response Teams
---
When Andreas Gal, CEO of Silk Labs and a US citizen, returned to the US from a business trip in Europe last year, he was detained by US Customs and Border Patrol (CBP) for secondary screening. He claims he was threatened with unwarranted charges, denied access to an attorney, and told he had to unlock his electronic devices before he would be allowed to leave.
Most of the questions, Gal explained in a phone interview with The Register, were related to his work as CTO of Mozilla, a position he left in 2015.
"They didn't tell me what they were looking for," he said. "But having gone through this experience, it did not feel random."
Despite being told he had no right to an attorney, he says he refused to answer questions and was eventually allowed to go without unlocking his devices, though his Global Entry card – a subscription-based biometric border entry program to facilitate travel – was taken from him.
On Wednesday, the American Civil Liberties Union (ACLU) sued CBP claiming that the agency maintains secretive units to "detain, search, question, and/or deny entry to people with valid travel documents who present no security risk."
The ACLU complaint, filed in the Eastern District of New York, seeks CBP documents under the Freedom of Information Act that the agency has refused to produce.
It contends that these Tactical Terrorism Response Teams (TTRTs) have operated for the past few years and target individuals, including US citizens, "who do not present a security risk but may hold information or have a connection to individuals of interest to the US government."
"The public has a right to know how these teams operate, how their officers are trained, and whether the guidelines that govern their activities contain civil liberties and privacy safeguards," the ACLU said in a statement announcing its lawsuit.
The complaint says TTRTs target people without valid cause, based on hunches and instinct, raising the likelihood that travelers are subject to profiling based on race, religion, ethnicity, national origin, or proxies for those attributes. As such, TTRTs may be violating protections guaranteed by the US Constitution.
CBP watches for individuals on the US government's terror watchlist but TTRTs are expected to scrutinize people not on the watchlist and not known to be a security threat.
Gal, who was detained by a TTRT, believes it's possible that his past work on encryption and online privacy, his public disapproval of the Trump administration, or his campaign contributions to Democratic political candidates, may have led to him being targeted.
What concerns him about TTRT operations, he said, is we don't know much about them. "They can pull random people over for unclear reasons and ask them questions and bully them," he said.
For Abdikadir Mohamed, an immigrant, the experience was far worse. According to the ACLU, CBU officers in 2017 denied him entry into the US, interrogated him for 15 hours, and sought to deport him. Mohamed challenged the deportation order, which led to him spending 19 months in detention before a judge granted his asylum claim and allowed him to rejoin his family in the US.
The ACLU says TTRTs detained over 1,700 people in 2017.
A federal court decision last month in a separate case brought by the ACLU and the Electronic Frontier Foundation, Alasaad v. McAleenan, should limit the ability of US authorities to demand access to digital devices in the absence of reasonable suspicion and to conduct "fishing expeditions."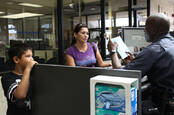 Shock! US border cops need 'reasonable suspicion' of a crime before searching your phone, laptop
READ MORE
CBP declined to comment on the lawsuit specifically but offered a statement explaining TTRTs.
"While all CBP officers are trained to identify individuals who may pose a threat to our nation, Tactical Terrorism Response Teams were created in 2015 and are specially trained in targeting and analysis to identify those attempting to enter the United States who are suspected of attempting to compromise our national security," CBP's spokesperson said in an email to The Register.
"The teams employ a variety of methods to mitigate possible threats that are standard throughout the agency and work in concert with all of CBP to carry out our border security mission."
Six months ago, Gal filed a lawsuit in California to force the government to provide him with records of his CBP interaction, after the government failed to respond to his request for those records under the Privacy Act.
He said he is opposed to terrorism and violence in any form and would want authorities to be aware of any such activity. But he also said he's passionate about privacy and believes the government needs to be accountable.
"I'm a a US citizen and these people seem to believe the Constitution does not apply at the border and they seem to believe the public does not deserve an explanation," Gal said. ®