This article is more than 1 year old
British bloke accused of extorting victims for 'Dark Overlord' hacker crew finally gets his free trip* to America
* Terms of stay non-negotiable following extradition. Some imprisonment required. He denies any wrongdoing
A British man suspected to be an instrumental member of the Dark Overlord hacking crew has been extradited to the US for trial.
On Wednesday, 39-year-old Nathan Wyatt, of Wellingborough, England, appeared in a federal district court in eastern Missouri to face charges [PDF] of aggravated identity theft, threatening damage to a protected computer, and conspiracy.
He pleaded not guilty, and will be detained until his next court date, which has not yet been decided.
The appearance comes a month after Wyatt lost his appeal at the High Court in London, England, to avoid extradition to the States for trial. He has been behind bars in the UK since 2017 for separate blackmail and fraud convictions.
Uncle Sam's prosecutors claim Wyatt was one of a group of scumbags operating under the Dark Overlord banner back in 2016, which extorted hush money from companies and organizations after stealing copies of their internal data.
Wyatt's part in the scheme, it is alleged, was to be the point man between the hackers and the victims. Prosecutors say he created and operated the email and phone accounts that were used to threaten the compromised organizations and instruct them how to cough up the dosh.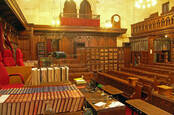 Pack your bags, you're going to America, Lord Chief Justice tells accused Brit hacker
READ MORE
Additionally, it is alleged that, when the victims refused to pay, Wyatt was responsible for harassing and threatening relatives of the victims.
Those hacked included three healthcare providers, a medical records company, and an accountant. Three of the businesses were located within eastern Missouri, hence the decision to try Wyatt in a St Louis court.
"Today's extradition shows that the hackers hiding behind The Dark Overlord moniker will be held accountable for their alleged extortion of American companies," said Brian Benczkowski, an assistant attorney general with the Justice Department's criminal division.
"We are thankful for the close cooperation of our partners in the United Kingdom in ensuring that the defendant will face justice in US court."
This isn't the first time Wyatt has found himself in the news over hacking allegations. In addition to the aforementioned blackmail and credit-card and identity fraud charges, in 2016 he was suspected of hacking Pippa Middleton's iCloud account, only to be cleared following a police probe. ®