Want to live long and prosper? Avoid pirated, malware-laden Star Wars free vid streams – and pay to watch instead
Poisoned movie feeds will do more damage than an angry Dalek
---
Movie fans eager for an early peek at the new Star Wars installment are putting themselves at risk of malware infection.
This according to the crew from Kaspersky Lab, who warn that criminals are disguising malware as free streams of The Rise of Skywalker in hopes of scoring a few easy infections on unsuspecting users.
The tactics themselves are nothing new. Malware operators have long used popular movie and film franchises as a way to convince users to open the trojans and exploit files that download malware. Such is the case here, where torrent and file-sharing sites are offering malware that presents itself as a copy of the new film.
In this case, however, the attacks are proving particularly effective - possibly due to the hype around the film. Despite criminals targeting 25 per cent fewer users and offering up 30 per cent fewer unique files than last year, Kaspersky says its detected malware attacks have risen 10 per cent, an indication that hackers are having more success.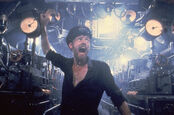 Das Reboot: Uni forces 38,000 students, staff to queue, show their papers for password reset following 'cyber attack'
READ MORE
What's more, the team also found that phishing sites are also taking advantage of the movie hype by pretending to be streaming services that show bootlegged copies of the film.
"Kaspersky researchers found over 30 fraudulent websites and social media profiles disguised as official movie accounts (the actual number of these sites may be much higher) that supposedly distribute free copies of the latest film in the franchise," the security shop said of its findings. "These websites collect unwary users' credit card data, under the pretense of necessary registration on the portal."
Fortunately, avoiding these attacks is easy enough if users follow some basic best practices. Avoiding unknown sites and suspicious links, maintaining up-to-date security software and system patches, and not downloading any untrusted or suspicious files should be enough to avoid these attacks.
Or, you could always just buy a ticket to watch the movie in a theater...
Given the number of people who will be on holiday, travelling, and meeting with family this time of year, however, there will be plenty of unwary victims for the attackers. For this reason it is also worth keeping an eye on the devices of less-savvy friends and family and making sure they know to avoid shady streaming sites. ®