Puma is perhaps best known for its sportswear and trainers. However, it's getting into a new market – eSports.
The German firm yesterday announced its latest offering, a £80 pair of socks aimed at console gamers, called Active Gaming Footwear. The sock, which is presently available to order from the company's website, was designed with "console games in mind," according to the product's description page.
Puma lists its features and benefits, which we've copied verbatim below, because we don't quite understand it:
Medial wrap-up grip in SEEK mode
Lateral wrap-up support in ATTACK mode
Heel wrap-up stability in CRUISE and DEFENSE mode
Presumably, medial motion refers to pointing your toes inwards and lateral to pointing your toes outwards, but that doesn't really explain it.
We should also add that Puma refers to the Active Gaming Footwear as socks, but also adds that it can be used "in-arena," which suggests it can also be used, er, at a desk under the darkened megadome of eSports gaming halls too.
It's not uncommon for sportspeople to spend huge sums on computer hardware that promises to give them a competitive edge on the playing field. That said, gaming is a fairly sedentary activity. You sit down on your couch, turn on the PlayStation, and take it from there. The only time you break a sweat is when walking to the fridge to grab another bottle of Mountain Dew.
And while we wouldn't want to dismiss the obviously competitive nature of eSports, it's hard to see how footwear enters the equation. Surely you would get the most benefit from a specced out computer, or a fancy mechanical keyboard, rather than these socks.
Of course, this hack would be happy to concede ignorance here. I have covered eSports in the past, and was shocked to learn there's a huge ecosystem surrounding the industry that seldom receives mention. Did you know, for example, that some teams have their own on-staff nutritionists?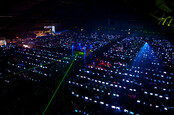 Red-faced, sweating and still in your chair: Welcome to eSports
READ MORE
Indeed, Soylent, the nutritionally complete beverage favoured by Silicon Valley's time-poor elite, actually sponsors Endpoint, one of the UK's most promising eSports teams. As eSports grows in prominence, and increasingly becomes regarded as a legitimate competitive endeavour, it makes sense that lifestyle brands would want to latch on.
Funnily enough, this isn't Puma's first foray into the eSports space. Earlier this year, it partnered with PlaySeat to create a gaming chair that incorporates physical movement into the experience of squatting over an opponent in Call of Duty.
We've asked Puma for more info, and obviously, to request a review unit.
Sadly though, the Puma Active Gaming Footwear doesn't come in half sizes. It also can't do anything about the squeaky-voiced teens bragging about their sexual escapades, either. ®