This article is more than 1 year old
No merry Christmas for SwiftStack staff: Enterprise cloud storage biz axes workers amid strategy shift
Sales team trimmed in time for the holidays
Exclusive Enterprise cloud storage biz SwiftStack got smaller on Wednesday when it laid off an unspecified number of people.
The Register heard that something like half the company had been let go, but a spokesperson for the San Francisco-based outfit insisted that was an exaggeration while declining clarify how many people were actually dismissed.
"Today at SwiftStack we reorganized our sales, partner, and marketing teams to focus on areas where we are experiencing success, and unfortunately, some valued members of the company were affected," SwiftStack's spokesperson said in a statement provided to The Register.
"With this change, our product and engineering team is boosted with additional resources that allow us to go after these new opportunities while continuing to support our existing customers as they evolve and become more data-driven. With this adjustment, SwiftStack is in a position for continued success and growth going into the new calendar year with our customers and partners."
SwiftStack's spokesperson said there's been a reduction in some areas and an increase in others, reflecting a shift in strategy.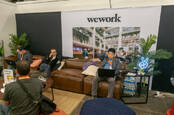 We(don't)Work: Rent-a-desk outfit cuts 2,400 staff in bid to be a functioning business
READ MORE
Founded in 2011, SwiftStack offers distributed object storage software called Swift – maddeningly, written in Python rather than the Swift programming language – for OpenStack deployments, on-premises or in the public cloud. Its customers – more than 100, the company claims – include eBay and Verizon.
SwiftStack has received about $24m in funding over the past eight years, according to CrunchBase, and has somewhere between 51 and 100 employees, or did at last count. Craft.co, a corporate data aggregation biz, estimates SwiftStack has 68 employees and reports that its most recent funding round occurred five years ago.
California businesses with more than 75 employees are required to file a Worker Adjustment and Retraining Notice (WARN) if they layoff more than more than 50 employees within 30 days.
A spokesperson for the California Employment Development Department told The Register that no such notice has been filed for SwiftStack, presumably because SwiftStack's headcount and layoff count fall below one or both of the relevant thresholds.
The company provided no details about why it swung the axe, but as we observed in 2016, there's a lot of competition in the object storage market. ®
Do you know anyone else laying off staff this Christmas? Let us know, please.