Fuming French monopoly watchdog is so incensed by Google's 'random' web ad rules, it's fining the US giant, er, <1% annual profit
Payer cette petite amende, s'il vous plaît
Google was today ordered by France's monopoly watchdog to cough up a €150m ($166m) fine for abusing its "dominant position in the search advertising market."
The Euro nation's Autorité de la concurrence slammed the American web giant's "opaque and difficult-to-understand rules," which are applied "in an unfair and random manner" on its internet ads platform.
As such, the competition regulator fined Google, and ordered it to clarify its terms and conditions particularly its procedures for suspending accounts. The US corp also has two months to produce a report explaining the steps it will take to comply with the order, and six months to provide another dossier confirming what exactly it was able to implement.
It must also publish the ruling on its Google.fr site, and Google.com when accessed in France, for one week. The fine, by the way, amounts to less than one per cent of Google-parent Alphabet's $30.7bn profit in 2018.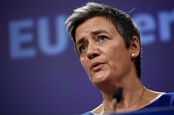 I don't hate US tech, snarls Euro monopoly watchdog chief – as Google slapped with €1.49bn megafine
READ MORE
This all stems from a complaint filed four years ago to the watchdog by a French outfit called Gibmedia, which, among other things, ran a weather forecast website. Google accused Gibmedia of running dodgy AdWords (now Google Ads) for that site that allegedly lured netizens into signing up for services with unclear subscription costs and terms.
As a result, Gibmedia was thrown off Google's online billboard platform. In response, the French biz complained it had been unfairly booted without warning.
Having mulled over the gripe, France's authorities agreed Google applies its T&Cs inconsistently, and argued this is not great for the internet as a whole – seeing as the Silicon Valley titan handles an estimated nine out of ten web searches in France, and four out of five globally.
Google said it will appeal the ruling against it.
"People expect to be protected from exploitative and abusive ads and this is what our advertising policies are for," a spokesperson told The Register. "Gibmedia was running ads for websites that deceived people into paying for services on unclear billing terms. We do not want these kinds of ads on our systems, so we suspended Gibmedia and gave up advertising revenue to protect consumers from harm. We will appeal this decision."
Gibmedia, meanwhile, denies any wrongdoing.
"Gibmedia has never been convicted of any deceptive practice and it's unacceptable to see that Google, which has just been once again condemned for anti-competitive practices, has no other defense than to attack its victim," its lawyer Hervé Lehman said. ®