Hold my Bose, we can do premium: Sennheiser chucks pricey wireless cans at travellers
PXC 550-II comes for Sony and co's expensive audio breakfasts armed with... oh no, a microUSB
Review In airports and train stations, it's not unusual to encounter weary corporate warriors sporting headphones that cost upwards of £300. This premium segment of the audio market is largely dominated by two players: Bose's QuietComfort II cans, and the Sony WH-1000XM3. Could their time at the top be coming to an end?
Sennheiser certainly hopes so. Late this year, the iconic German audio firm unleashed its PXC 550-II closed-back wireless headphones, which it says were designed with "the frequent traveller" in mind. And at £300, these cans are priced right at the top of its segment. El Reg put them to use to see if they live up to the promise.
Design
The Sennheiser PXC 550-II has a somewhat conservative design, clad almost entirely in black, with only a few embellishments. Around the rim of each cup, there's a somewhat sparse array of buttons, which control things like noise cancellation.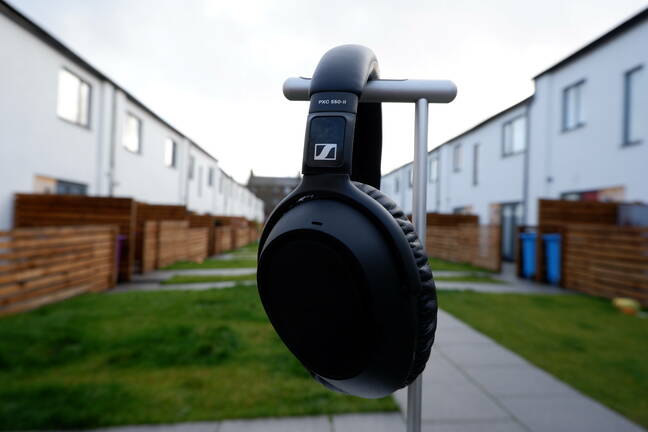 These headphones predominantly use a gesture-based touch mechanism to control things like audio playback and volume. I'm generally quite cynical about touch systems, but these were actually quite pleasant to use. They felt intuitive, and I didn't need to pick up the instruction manual.
Interestingly, there isn't a dedicated power button. That's because the headphones automatically turn on and off when you rotate the cups. This feature took a bit of getting used to, because it's somewhat of a diversion from the industry norm. However, I actually quite liked it. One advantage is you'll never forget to turn your headphones off, which is handy if you've left them in another room and someone is calling you.
The cups themselves are fairly wide, with a decent amount of room between your ear and the speaker piece. This makes them comfortable to work for prolonged periods of time, and I have worn them throughout an entire 9-to-5 work shift without feeling irritated.
One thing that didn't particularly impress was the inclusion of a microUSB port. This is particularly unforgivable, given the price-tag and the fact Sennheiser released these in 2019, when most firms in the segment have already switched to flip-friendly USB-C.
Performance
Sennheiser claims these headphones have a 30-hour battery life. In my experience, that's probably a little bit generous, with the cans coming up short – but not by much. They should easily last even the longest of ultra-long-haul flights, like Qantas's arduous 17-hour flight from Heathrow to Perth.
So far, I've been impressed with the microphone on the PXC 550-II, which captures clear voice audio, even in the noisiest of environments. I've used it to make calls while walking down busy arterial roads, and in supermarkets during the madness of the Christmas season, never struggling to make myself heard.
And then there is the sound quality, which is predictably excellent. You'd expect no less, given the device's price and the pedigree it comes from.
Bass tones are earthy and pronounced without feeling overbearing and muddy, while mids are accurate and refined. You can feel the detail in more sophisticated compositions, particularly in large orchestral classical pieces.
High notes, although solid, are not quite as polished, and you occasionally encounter moments of harshness, particularly when listening to pieces that make heavy use of cymbals, or falsetto vocals. A great example of the latter would be Into The Unknown, from the Frozen 2 soundtrack, which includes etherial backing vocals from Norwegian singer AURORA.
Where these headphones truly excel is in their noise-cancelling technology, which effectively drones out external noises like cars and aeroplane engines, allowing you to focus on the music or podcast you're listening to. In my experience, this favourably compares to Sony's excellent WH-1000XM3.
I was also impressed by the relatively low amounts of sound leakage. For business travellers, leakage is a problem on two separate fronts. Firstly, it disturbs those around you. If your cans are constantly leaking noise, you are guaranteed to cause some tutting from fellow passengers in the quiet car. Leakage also allows noise in, which can detract from the overall listening experience, which is crucial for a pair of £300 headphones.
Who is this for?
This effort from Sennheiser is to be commended. It checks most boxes, including a solid battery life, noise cancellation, and broadly excellent sound quality, both when listening and speaking.
There are areas where it loses points, including the baffling addition of yesteryear's USB format, and its performance with high frequencies. But for the most part, these are minor annoyances. And indeed, there are areas where I feel it bests the competition.
I am a huge fan of the power mechanism, as it guarantees I never leave my headphones connected to my smartphone without realising. And while this is purely personal taste, I feel they are far more comfortable to wear than either the leading Bose or Sony models — particularly when listening for long periods.
If you are tempted, you can grab these from Sennheiser's website for £300. They're also available elsewhere for slightly cheaper, including at John Lewis. ®