This article is more than 1 year old
Stack Overflow makes peace with ousted moderator, wants to start New Year with 2020 vision on codes of conduct
Q&A biz admits mistakes, promises more discreet public communication
In a display of Yuletide good spirits, or possibly a desire to bury bad news, Stack Overflow has settled its beef with a former moderator and said she can apply to regain her moderator status.
On December 23, 2019, the biz, which operates a collection of more than 140 community-driven Q&A websites that form the Stack Exchange network, announced that it had made peace with Monica Cellio, a volunteer moderator who lost her moderator status and associated site privileges after questioning the company's Code of Conduct.
The business has already twice apologized for its handling of the situation, initially in a now deleted post from community director Sara Chipps and subsequently in a post from CTO David Fullerton.
When The Register first reported on the disaffection among some Stack Overflow moderators in October last year, the company's treatment of Cellio was one among several sources of discontent. Other concerns among site include the biz's arbitration policy for dispute resolution, content licensing, and ads.
Cellio wrote a detailed account of what happened in an online post, and there's even a timeline that explains the sequence of events. Essentially, Stack Overflow reformulated its Code of Conduct (CoC) then cancelled Cellio's moderator status for asking about how its rules would be applied.
The revised policy required moderators to use people's designated pronouns when known. Cellio has made clear that she supports doing so. Nonetheless, she inquired about whether writing to avoid the use of any pronoun would also be construed as a CoC violation because some moderators had said as much.
Instead of receiving an explanation, Stack Overflow revoked her moderator privileges. When The Register asked Stack Overflow for comment, we received an emailed statement attributed to community director Sara Chipps that explained, "we revoked privileges for one Stack Exchange moderator when they refused to abide by our Code of Conduct (CoC) after being asked to change their behavior multiple times."
A Stack Overflow spokesperson subsequently confirmed Cellio was the individual referenced as "they" in that statement and we reported as much.
Aggrieved at being named by the company and accused of wrongdoing without justification, Cellio subsequently threatened to sue the organization for defamation and established a GoFundMe.com page to pay for litigation. She managed to raise more than $25,000.
In its December 23 announcement that the company had reached an agreement with Cellio, Chipps said the biz believes Cellio's actions were not malicious and were the result of misunderstanding. Chipps allows that the wording of the Code of Conduct was insufficiently clear and cites Cellio's community contributions and integrity.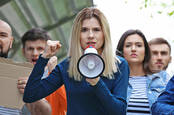 The mod firing squad: Stack Exchange embroiled in 'he said, she said, they said' row
READ MORE
"While our initial statement did not address [Cellio] specifically, we regret that we used her name when responding to a reporter's follow-up," Chipps wrote, in reference to our report. "We regret any damage to Ms. Cellio's reputation and any other damage she may have suffered." Chipps said Cellio has been invited to reapply for possible reinstatement as a moderator but has not yet done so.
The Register asked Cellio whether she wished to comment further but she declined, citing the terms of her agreement with Stack Overflow. We also asked Stack Overflow whether Cellio had actually brought a lawsuit against the company, given that no such complaint is evident in the US court system's PACER database of filings.
A Stack Overflow spokesperson declined to answer. "We came to an agreement, and we can not provide any further details on the matter beyond what is in our statement," the spinner said.
In November, Cellio said she intends to share details of how she has used her GoFundMe-raised funds eventually. She also disclosed she had spent $7,500 at that point to retain an attorney. She has proposed donating fundraising proceeds in excess of her legal costs to The Trevor Project, which provides services for LGBTQ youth. ®