TikTok is one of the fastest growing social apps, with more than 1.5 billion downloads. However, its Chinese origins have caused controversy in the US, leading some lawmakers to declare it a threat to national security. And now the US Army has banned soldiers from downloading the app on government-issued phones.
Speaking to Military.com, Army spokesperson Lt Col Robin Ochoa described the app as "a cyber threat".
TikTok is a video-sharing platform owned by the Beijing-based company ByteDance. It allows users to create short 15-second videos, much like the dearly departed Vine. Where it differs is that it allows users to repurpose the audio from other videos, effectively incubating new memes by design. Taking a leaf out of Snapchat's book, it includes filters that can alter or distort a video, often for comedic effect.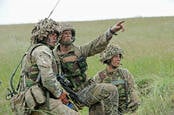 British Army cyber 'n' psyops unit 77 Brigade can't even brainwash civvies into helping it meet recruitment targets
READ MORE
Interestingly, it has a thriving community of military users, predominantly from the US. When scrolling through the feed, you often see squaddies sharing short clips about the ennui of enlisted life, with its boundless rules and regulations. It's also not uncommon to see more thrilling examples of soldiers hanging off the cargo ramp of a Hercules mid-flight, or racing in a military Jeep.
Most curious of all, some military recruiters have taken to the platform in an official capacity to attract a younger audience who may be receptive to a career in uniform. As noted by Military.com, recruiters were given permission to use social media last summer, although the guidance paid no note to TikTok.
The latest edict from the US Army comes shortly after its Navy issued similar guidance, instructing service members to delete the app from all government phones.
As the first globally successful Chinese social property, TikTok has attracted scrutiny, most notably from Senators Tom Cotton (R-AR) and Chuck Schumer (D-NY), who argued in a letter penned in October last year that it had the potential to allow China to interfere in the country's 2020 election.
Furthermore, allegations have swarmed suggesting TikTok is censoring videos regarding the plight of China's Uighur ethnic minority and the Hong Kong democracy protests. ByteDance has strongly denied these allegations. ®
Similar topics