CES AMD this week touted a bunch of new laptop and desktop silicon that put main rival Intel to shame.
The raft of Radeon and Ryzen components – launched at this year's Consumer Electronics Show (CES) in Las Vegas, USA – will run between 10 and 20 per cent faster than Intel equivalents, according to AMD's own testing.
Included in this lot is the beefiest desktop processor chip we've seen, surpassing whatever Intel's offering. We're talking about the third-gen Ryzen Threadripper 3990X, which isn't cheap at $3,990 though offers a staggering 64 Zen 2 CPU cores, or 128 hardware threads, running at 2.9GHz, with a boost up to 4.3GHz – more than most servers. It is aimed roughly at workstation, video-editing, and 3D-rendering workloads.
It is fabricated using TSMC's 7nm process, and sports 32KB of L1 instruction and 32KB of L1 data cache per core, 512KB of L2 cache per core, and 256MB of shared L3 cache, offers 64 PCIe 4 lanes per processor, fits into a sTRX4 socket, and draws typically 280W.
As stated above, that processing power is intended for, among other things, 3D rendering and video special effects, and AMD reckons it will be up to 51 per cent faster than its previous Threadripper generation. It is due to go on sale and ship in February.
Meanwhile, the new Ryzen 4000 series is designed for very thin laptops. They are, as expected, built using the Zen 2 architecture and TSMC's 7nm process, sport up to eight cores and 16 hardware threads, and will be in laptops from Acer, Asus. Dell, HP, Lenovo etc this quarter sometime.
AMD claims that its Ryzen 7 4800U is 18 per cent faster graphics-wise than the Intel Core i7-1065G7, and the 4800H is 25 per cent faster at 4K video encoding than the Intel Core i7-9750H. Again, remember these are the manufacturer's claims.
"We are kicking off 2020 with a bang, bringing unmatched performance, graphics, and longer battery life to ultrathin and gaming laptop users with the new AMD Ryzen 4000 Series Mobile Processors," said general manager of AMD's Client Compute, Saeid Moshkelani, in a canned statement on Monday.
Faster shooting
As for the new Radeon RX 5600 range, it's designed for normal-sized gaming laptops and, according to AMD, will be 20 per cent faster for games like Call of Duty, Red Dead Redemption etc, and 10 per cent faster when playing online games like Fortnite, Overwatch, World of Warcraft and others, compared to previous versions.
The Radeon RX 5600 and 5700 graphics cards will be included in systems shipping this quarter and beyond, we're told.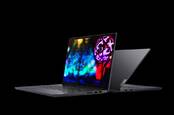 Lenovo intros choose-your-own-adventure Yoga Slim 7: Ryzen spend $360 less on shiny or take a dip in Intel's Ice Lake?
READ MORE
Here's the canned excito-quote for this range, attributed to Radeon head Scott Herkelman: "From heart-pounding esports competitions to eye-popping AAA blockbusters, today's games demand more performance, higher framerates and lower latency than ever before… We're committed to providing all 1080p gamers with the raw horsepower and incredible features that enable the absolute best gaming experiences with all settings maxed out."
Meanwhile, leaning back in its La-Z-Boy, Intel used CES to mention it hopes to ship its much-hyped discrete GPU, the Xe DG1, in 2021, a component even Chipzilla is circumspect about, noting the graphics processor is "expected to deliver massive performance gains."
There was also a "first look" at Intel's upcoming laptop and slabtop PC processor line codenamed Tiger Lake – a name which makes as much sense as the promotional effort behind it. When will it be available? Possibly this year, maybe next year. What's the rush?
If that wasn't exciting enough, Intel also announced a "growing partnership with Google" with its "Project Athena-verified Chromebooks" and a "foldable, OLED-display form factor, codenamed Horseshoe Bend." It must be tough having 80 to 90 per cent of the market despite yourself. ®
Similar topics