Lenovo intros choose-your-own-adventure Yoga Slim 7: Ryzen spend $360 less on shiny or take a dip in Intel's Ice Lake?
AMD Ryzen 4000 and Intel configs both available
---
CES Lenovo has always been a bit of an aberration, as far as PC manufacturers go. While its rivals have pushed consumers towards one-size-fits-all boxes, Lenovo has steadfastly offered punters a choice of configurations. The new Lenovo Yoga Slim 7, just unveiled at the CES trade show in Las Vegas, embodies that philosophy, touting both Intel Ice-Lake and AMD Ryzen 4000 variants.
Moreover, the Lenovo Yoga Slim 7 has two different display size options – 14 inches, or a slightly larger 15 inches.
While this may appear (at least on paper) to be a fairly inconsequential difference, it's worth noting that the larger machine comes with a more spacious keyboard, and the option to add a more potent graphics card.
Lenovo is yet to unveil what specific AMD and Intel chips will be available on its new ultrabook line — although it notes that the 14-inch Intel-powered Yoga Slim 7 can carry "up to" an i7-1065G7.
The Ryzen 4000, on the other hand, is based on a 7nm process, and uses AMD's Zen 2 architecture. Intel, of course, is still switching its fabs to new manufacturing processes and causing availability issues in the process.
Predictably, the Intel-powered Lenovo Yoga Slim 7 14 packs Iris integrated graphics, although buyers can upgrade to a somewhat more potent (and, again, unspecified) NVIDIA GeForce MX graphics card. It supports up to 16GB of LPDDR4x RAM and up to a TB of PCIe flash storage. The display has FHD and UHD configurations, and the 60.7Wh battery promises up to 14 hours of endurance. There's also a fast-charging mode, which is said to give three hours of juice after the PC has been connected to the mains for 15 minutes.
On the connectivity front, the Intel Lenovo Yoga Slim 7 14 offers a solitary Thunderbolt port, which is accompanied by one SD slot, an HDMI port, and two USB 3.1 Gen C ports.
The AMD variant is similar to its Intel counterpart, save for a couple of key differences.
It ditches the Thunderbolt port with a bog-standard USB-C slot — albeit one that supports PD 3.0. It also lacks the UHD option, with punters limited to a standard 1920x1080 FHD screen. There's also no option to augment the graphics capability with a dedicated card.
And finally, let's talk about the 15-inch Lenovo Yoga Slim 7. This is only available with Intel's silicon — and annoyingly, Lenovo is yet to name which ones.
As mentioned, the 15-inch beast gives users the choice to add either an NVIDIA MX or NVIDIA GTX graphics card. On the RAM front, this machine gives users the choice between 16GB and 8GB of LPDDR4X RAM, and 1TB, 512GB, or 256GB of storage.
Sadly, the only display option is a 15.6 FHD IPS screen. In terms of ports, it offers two USB 3.1 Gen 2 ports, a single USB-C port, an SD slot, and HDMI. If you get the model with the dedicated GTX graphics, Lenovo includes an extra DC-in jack, in order to cope with the power demands of a discrete graphics card.
Lenovo plans to release all three models of the Yoga Slim 7 in April. The AMD model will be the cheapest, retailing at $849.99, while both Intel models are a full $360 more expensive, starting at $1,209.99.
Separately, Lenovo has also announced a Qualcomm 8cx-powered version of its Yoga ultrabooks — called, predictably, the Lenovo Yoga 5G.
Retailing at $1,499 and with an expected launch date of Spring, it'll pack an integrated Qualcomm X55 5G modem capable of supporting both millimetre-wave and sub-6GHz networks, as well as bog-standard LTE.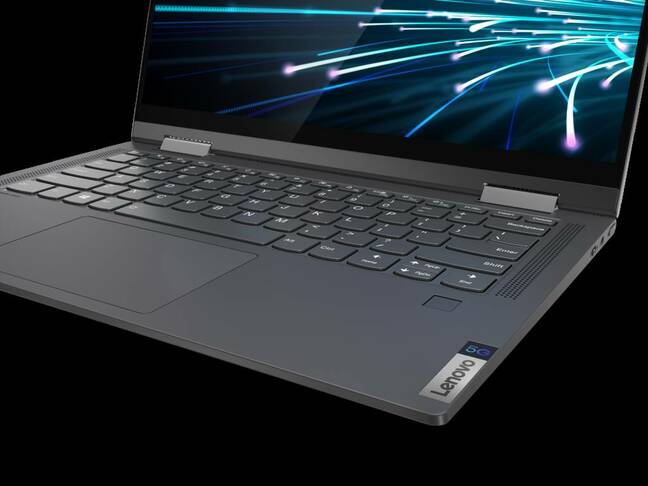 It also comes with a 14-inch FHD IPS display, 8GB of RAM, and a choice between 256GB and 512GB of storage. Connectivity comes via two USB-C ports.
After a false start with Windows 8 RT, Windows on ARM finally looks like a viable option, with manufacturers including Samsung and Lenovo introducing their own Snapdragon-powered devices. ®