CES Tired of breaking your phone on nights out? Happy to walk around with a handset that looks as though it was stolen from a construction yard? If so, you'll want to check out the new Cat S32 mobe, announced at CES in Las Vegas.
Caterpillar isn't a firm you would instinctively associate with the mobile industry. It is best known for its excavators and bulldozers. And yet, since 2012, it has licensed its brand to the Reading-based Bullitt Group, which has steadily released a train of ruggedised devices over the years.
The S32 is the latest. With a hefty girth and chunky bezels, this phone won't win any prizes for looks. But that's not the point. It's designed to withstand the kinds of abuse inevitably encountered by hardware on a rough and tough work site.
The handset is rated to IP68, making the CAT S32 both waterproof up to 1.5 metres and very dust resistant. The Bullitt Group also drop-tested the handset from a height of 1.8 metres onto a plate of steel, with it emerging completely unscathed.
The manufacturer adds that the S32 meets the US Army's MIL-SPEC-810G standard for ruggedness. That covers the whole gamut of things that would ordinarily damage a phone — from drops to extreme temperatures. For what it's worth, no independent body certifies devices to this standard, so it's always worth taking such claims with a grain of salt.
The CAT S32 includes a 5.5-inch HD+ display, which the Bullitt Group claims works with wet fingers, as well as gloves. This is protected by Asahi's Dragontrail Pro glass, which also featured on the Google Pixel 3A and 3A XL.
It comes with 3GB of RAM, which isn't overtly generous, but is more than enough for everyday tasks. In terms of storage, the S32 has 32GB of internal flash storage. This can be extended with a MicroSD card.
Powering the device is a Mediatek Helio A20 MT 6761D chipset, which has four cores clocked at 1.8Ghz. Although this isn't a particularly speedy SoC, it does win points for on reduced power consumption.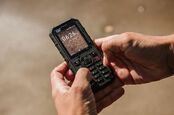 Google's 'other' phone platform turns up in post-apocalyptic mobe
READ MORE
And, on that note, the S32 comes with a reasonably generous 4,200mAh battery. For context, that's about what you'd get with a high-end Android smartphone. However, the lack of fast charging or wireless charging is a bit of a bummer.
As you'd expect, photography isn't a priority with this handset. It packs a solitary 13MP rear-facing camera, as well as a 5MP front-facing shooter. It does, however, redeem itself with the inclusion of a physical 3.5mm headphone jack, as well as NFC and Bluetooth 5.0.
The Cat S32 is priced at a relatively modest €299 ($333). That puts it within striking distance of its main Chinese rivals, like Ulefone and Blackview, which are increasingly dominating this incredibly small niche of the mobile market, thanks to the Middle Kingdom's capable and affordable devices.
Obviously we've requested a review unit. If our wish gets granted, we'll follow up with a more in-depth review and some tests of our own. ®