This article is more than 1 year old
Eggheads have crunched the numbers and the results are in: It's not just your dignity you lose with e-scooters, life and limb are in peril, too
If you're thinking of riding one of those things, wear a helmet
There were nearly 40,000 electric scooter injuries in the United States between 2014 and 2018, according to a study published in the journal JAMA Surgery on Wednesday.
Specifically, in 2014, there were 4,582 injuries, and by 2018, that annual figure stood at 14,651 – that's a 222 per cent surge over the four-year period.
The number of hospital admissions from accidents also skyrocketed to almost 3,300, a surge of 365 per cent, over the same period. The survey, conducted by researchers at UC San Francisco, analyzed data taken from the National Electronic Injury Surveillance System, a project led by the US Consumer Product Safety Commission to monitor the safety of consumer gizmos.
"E-scooters are a fast and convenient form of transportation and help to lessen traffic congestion, especially in dense, high-traffic areas," said Benjamin Breyer, co-author of the paper and an associate professor of urology and epidemiology and biostatistics at UCSF.
"But we're very concerned about the significant increase in injuries and hospital admissions that we documented, particularly during the last year, and especially with young people, where the proportion of hospital admissions increased 354 percent."
The rate of accidents went up from six per 100,000 riders in 2014 to 19 per 100,000 four years later. Smashing into concrete isn't pretty and over a quarter of the injuries – 27 per cent – resulted in fractures. In second place at 23 per cent were bruises and skin scrapes, and 14 per cent were from cuts.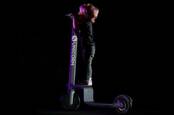 Non-unicorn $700 e-scooter shop Unicorn folds with no refunds – after blowing all its cash on online ads
READ MORE
Electric scooters littered on street corners are a common sight across the US, and increasingly around the world. It's easy to hop on a device after a quick few taps on a smartphone app. Riders often don't wear helmets, so it's unsurprising that they sustained a higher proportion of head injuries compared to cyclists over the four years.
"It's been shown that helmet use is associated with a lower risk of head injury," said Nikan Namiri, first author of the paper and a medical student at the UCSF School of Medicine. "We strongly believe that helmets should be worn, and e-scooter manufacturers should encourage helmet use by making them more easily accessible."
The latest findings largely support a previous one published in the British Medical Journal's Trauma Surgery & Acute Care Open journal. Namely, that it's young folks under the age of the mid-thirties that were more likely to get into e-scooter accidents.
The previous study also found that out of a sample size of 103 admitted to hospital, 79 per cent were under the influence of drugs, and 52 per cent had ingested drugs. All in all, you'd have to be a damn idiot to ride on those things drunk or high, without a helmet. ®