RISC-V business: SiFive and CEVA join forces to enable the development AI-amenable, edge-oriented processors
System-on-a-chip IP partnership seeks to create more smart home, automobile, robotics, IoT, and industrial applications, among others
---
On Tuesday, RISC-V CPU fixer SiFive announced it's working with CEVA, which licenses technology for deep learning, audio, and computer vision, to simplify the creation of processors capable of handling machine learning code without demanding too much power.
RISC-V is an open, royalty-free instruction set architecture, unlike Intel's x86 chip architecture which requires a license to implement recent processor designs. SiFive provides clients with access to the necessary intellectual property licenses to create custom silicon with minimal negotiation and hassle. CEVA does much the same in a more specific set of domains.
SiFive and CEVA anticipate that making it easy to design low-power SoCs tuned for AI-oriented tasks will attract hardware vendors looking to sell RISC-based hardware for applications demanding on-device neural networks, like imaging, computer vision, speech recognition, and sensor data handling.
Likely markets for such "network edge" applications, the companies speculate, include home automation, vehicle system enhancement, robots, security, surveillance, graphics overlaid on reality, industrial and internet-connected gadgets you probably don't need.
CEVA's DSP cores will be made available through SiFive's DesignShare program, which streamlines the silicon prototyping process by providing would-be chip designers with access to specific patent-protected intellectual property of participating partners.
CEVA will provide its CDNN Deep Neural Network machine learning software compiler to put cloud-trained AI models onto edge devices for handling inference tasks – "inference" being what AI models do after the data-intensive training process.
More specifically, the company's CEVA-BX Audio DSPs, CEVA-XM Vision DSPs and NeuPro AI processors have been integrated into SiFive's DesignShare program.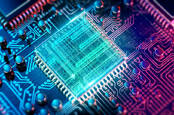 Dear chip designers: It will no longer cost you an Arm and a leg to use these CPU cores (well, not at first, anyway...)
READ MORE
In a phone interview with The Register, James Prior, senior director of product marketing at SiFive, said the company sees the world of future silicon as a place for a broad ecosystem of partners. SiFive's technology, he said, provides programmability alongside efficiency, power, and scalability.
"If you try to make a specific ASIC for your neural network, by the time you put it in the market, the model has changed," he explained.
Prior said business is going well but was unable to elaborate on many of the deals, noting that only a few of approximately 150 SiFive "design wins" – Nvidia, Samsung, Qualcomm, and Western Digital have mentioned RISC-V-based product plans – have been been made public. He said, however, that he expects more will be disclosed this year.
Prior also said that the SiFive Learn Inventor board, a RISC-V challenger to the Raspberry Pi board announced in December, has begun shipping. ®