This article is more than 1 year old
Cogent cut off from ARIN Whois after scraping net engineers' contact details and sliding them to sales staff
And the techies are almost universally very happy about it
There are still corners of the internet that function like the old days, and US regional internet registry ARIN has just proved it – much to the joy of network engineers.
After what some say have been years of sales reps grabbing email and telephone numbers from the Whois registration service, tier-one connectivity provider Cogent finally got its just desserts: suspension.
"ARIN has repeatedly informed Cogent that their use of the ARIN Whois for solicitation is contrary to the terms of use and that they must stop," ARIN's CEO John Curran posted to a mailing list this week.
"Despite ARIN's multiple written demands to Cogent to cease these prohibited activities, ARIN has continued to receive complaints… For this reason, ARIN has suspended Cogent Communications' use of ARIN's Whois database effective today and continuing for a period of six months."
Yes, that's right, the spammers got cut off. It is possible, even in 2020.
To say that this news was met with approval would be a significant understatement. "Thank you thank you thank you," the first respondent fired back minutes later. "Good news!," read another immediate response.
Other responses piled up: "Peace"; "an appropriate response" – in fact only one person seemed anything less than excited when they complained: "This is a disproportionate response IMHO," the singleton whinged.
They were immediately met with "Seems entirely reasonable to me. You break the rules, you lose the privilege. Works the same way with my seven year old."
So what's being going on? Well, according to the longer letter [PDF] sent to Cogent's CEO Dave Schaeffer from ARIN's Curran, the regional Internet registry (RIR) has received "numerous complaints of Cogent personnel repeatedly using the database to solicit customers" – largely emails and phone calls offering internet engineers bandwidth and similar services.
Error
No one likes sales reps calling, especially engineers who go out of their way to make sure they are not easily contactable.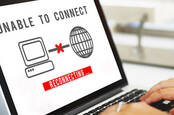 BGP hijacker booted off the Internet's backbone
READ MORE
And that, is seems, was Cogent's downfall because – being engineers – many of them have set up specific emails just for ARIN correspondence and others never gave out their phone numbers except to ARIN because, well, they had to. So when the sales reps came calling the engineers knew straight away where they had culled their information.
This was not a new thing. In fact ARIN has warned Cogent about this exact practice on numerous occasions. "Despite ARIN's multiple written demands to Cogent to cease these prohibited activities...," Curran wrote to Schaeffer.
Needless to say, grabbing contact details to hand to sales reps breaks ARIN's terms of use and so – ziiiiiiiiip – it's been cut off. For six months, and even longer "unless Cogent agrees in a binding manner to stop these prohibited practices."
So there you go, some good news for 2020 – spammers do, sometimes, get what they deserve. We've asked Cogent for a response and will update this piece if it ever responds. And yes, we're aware that now we're in its database. We'll let you know when we get the first sales call. ®