A disturbance has been detected in the world of data centres amid reports that private equity biz Macquarie is to take a majority stake in Sydney-based AirTruck that will cost circa A$3bn.
The claim, made by Bloomberg, follows reports in December that Goldman Sachs was running an auction for AirTruck, which bills itself as the largest hyperscale down under.
Agreement was reached between the Aussie bit barn and Macquarie Infrastructure & Real Assets this week, with AirTrunk CEO and founder Robin Khuda said to be retaining a minority stake in the business.
AirTrunk has server estates in Australian cities of Melbourne and Sydney, as well as in Singapore and a new 20MW facility under construction in Hong Kong. The majority stake being sold is owned by Goldman Sachs Group's special situations arm and TPG Sixth Street Partners.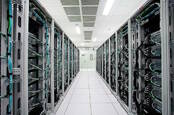 Data centre mergers and acquisitions hit $20bn in 2017 feeding frenzy
READ MORE
The company is also developing a 110+MW data centre in the north of Sydney to co-exist alongside the current one in the west of the city, and bought land next to its Melbourne site to expand that one as well.
Reg readers may remember that Macquarie's European Infrastructure Fund 6 SCSp snaffled KCOM's broadband and cloud slinging division last summer for a cool £627m, following a bidding war with Humber Bidco, a branch of the UK's largest hedge fund, the Universities Superannuation Scheme.
The part of KCOM acquired by Macquarie has 140,000 business customers and consumers in Hull and East Yorkshire, and generated £104.2m in the the company's fiscal '18 (PDF). So it was an eye-watering price despite it being the most profitable part of KCOM.
Some 22 mergers and acquisition in the data centre space were closed in the first half of 2019, according to Synergy Research Group.
The Reg has asked Macquarie and AirTrunk to comment. ®