Apple has announced yet another replacement programme — this time for several models of its pricey Smart Battery cases.
According to a post on Apple's website, some cases will fail to charge when connected to the mains — or will charge intermittently. The flaw also prevents the battery case from discharging juice to the phone, which is pretty much the entire point of them.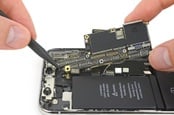 Ohm my God: If you let anyone other than Apple replace your recent iPhone's battery, expect to be nagged by iOS
READ MORE
So far, only the cases for the iPhone XS, iPhone XS Max, and iPhone XR are believed to be affected. The affected units are believed to have been manufactured between January and October, 2019.
Apple stresses this isn't a safety issue (unless, we suppose, you've kickdropped the thing in frustration and hurt your foot), likely in a bid to reassure customers with images of the exploding Samsung Galaxy Note 7 in their minds.
Danger or no danger, however, it's not a good look for the maker of reassuringly expensive kit.
Anyone looking to replace their duff kit should head to an Apple Store to chat with a Genius, or visit an Apple Authorised Service Provider, where they'll be able to swap it for you on Cupertino's behalf.
At least you won't have to shell out for it, we suppose. ®
Similar topics