Comment The richest man on the planet, with an estimated fortune of $150bn, has got his internet company to pledge an extraordinary $1m to battle ferocious wildfires in Australia: that's Australian dollars, so $690,000 in US bucks.
Jeff Bezos, of Amazon fame, has received a lot of blow-back over the offer, which Amazon celebrated in a blog post that explained how it is "supporting victims of the Australia bushfire crisis" in which it also encouraged Amazon customers to donate money to the cause.
For what it's worth, the web goliath has pledged "cash donations to relief agencies" as well as equipment and AWS "technical support for many of the government agencies dealing with the response and recovery efforts."
No less than Charlotte Clymer herself was critical, pointing out that even if Bezos has donated $10bn – her totally reasonable estimate of what has been raised worldwide – he would still have $100bn. A watertight argument.
Other powerful blows came from such figures as Lady O'Gaga (username: holleyr), who has more than 1,000 followers on Twitter and pointed out that "Pink is worth 1/100th or less than Bezos and she gave 500k. Yes I'm charity shaming Jeff Bezos."
Likewise, Danny Ocean, who notes he is a "former Attorney General, writer, spy, thief" who called Bezos a "cheap prick" by using the devastating logic that "Elton John donated $1 million; Chris Hemsworth donated $1 million; Kylie Jenner donated $1 million for fucks sake."
The roll call of critical voices continue and read like a Who's Who of Who's That: journalist Philip O'Connor; film producer Nick Palmisciano; even "social media guy" Greg Price weighed in – all of them pointing out that Bezos has lots of money and others who have less money than him gave more money than he did.
Fun to pile-on
And while none disclosed whether they had personally donated money to the same cause, that's not the point. They were also shy on how much Amazon/Bezos should have given. And which specific causes people like Bezos should be obliged to donate to in future.
But while some have called him a tight-wad, they may have overlooked the fact that Bezos took just $82,000 in salary last year. Sure, he also received $1.6m in stock options but that's like a 401k for super-rich people. You don't touch your 401k.
With his $154bn estimated fortune, the $1m donation – which, again, will come from Amazon and not Bezos personally and will presumably be written off against tax – would be the equivalent of the average American (with average net worth of $97,300 (Federal Reserve data)) giving the Australian fires 63 cents i.e. less than a dollar bill.
So if everyone that has enthusiastically piled in on Bezos on social media donates $1 then they can – just about – claim moral superiority over him. But is it really worth that $1 to feel better about yourself when you could put it toward a donut?
There are serious points to be made. Amazon continues to pay zero tax in the US on annual profits of $11.2bn, thanks in large part to terrible laws passed by elected representatives. In fact, Amazon received over $129m in income tax rebates last year.
Even before the corporate tax rate was lowered from 35 to 21 per cent by President Trump, Amazon's largest ever tax bill, percentage wise, was in 2012 when it paid 15.1 per cent. That would be the equivalent of $1.68bn in 2019. But Amazon restructured along the same lines as other tech companies like Google and Apple and so paid nothing in federal taxes for 2017 and every year from then on.
Likewise, Bezos' estimated $154bn personal fortune is taxed at ridiculously low rates. For example, he pays just $10,000 in social security tax a year when the average American earning $47,000 a year pays, on average, $1,240. So 400,000 times less; because that particular tax is capped at earnings above $132,900.
One bright spark even managed to raise more money than Bezos by offering nude photographs in exchange for evidence of charitable donations to the bushfire effort: show you donated ten bucks, and you got a naked selfie in return, basically. Twenty-year-old Californian Kaylen Ward said her fans raised $700,000 for wildfire charities as a result of her reward scheme. It makes the donation by Bezos look a bit weak.
Tax bill
There was outcry a few months ago when Democratic presidential candidates Elizabeth Warren and Bernie Sanders put forward proposals for taxing extremely rich people more: under Sanders' proposal, Bezos – as the richest man in the world – would pay $9bn in tax. A huge sum of money that amounts to six per cent of his worth. The average American pays 14 per cent of their income in taxes.
Of course, the counter-argument, and one constantly put forward and heavily promoted by exceptionally rich people is the issue of philanthropy: the giving of money to charities and good causes.
The biggest current proponent of this argument – that stupendously rich people are simply reaping the rewards of their hard work but give back in the form of foundations and such like – is former richest man in the world, Microsoft co-founder Bill Gates.
Gates gives billions of dollars to charity each year. Which is wonderfully generous, though it does still leave him with hundreds of billions of dollars that he cannot spend personally because one person can be in one place at one time. At the same time, those billions of dollars would vanish within months if Gates became personally liable for running a state or country. California's 2020 budget is $222bn.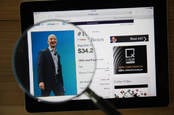 I've got way too much cash, thinks Jeff Bezos. Hmmm, pay more tax? Pay staff more? Nah, let's just go into space
READ MORE
The fact that Bezos made play of his company's – not his own – donation to Australian wildfires; enough to give it a personal Instagram post and a corporate blog post – while giving, comparatively, a tiny amount of money is pretty obnoxious.
It is also clear evidence that the argument that incentives and policies that allow for people to become hyper-rich at the expense of their employees (whose bathroom breaks are closely monitored at Amazon) because of the assumption that they create jobs and provide through philanthropy is – as it has always been – a pipe dream.
So, everyone pile on Bezos on social media? No, donate to the bushfire cause, leave Jeff alone and make a point of finding out which political candidates support changing policies that will remove low tax burdens on the very rich and give them your vote.
Because there's only one thing more annoying that a billionaire seeking credit for charitable giving and that's a pointy-fingered Twitter twat complaining about it in order to make themselves look better. ®
Similar topics
Narrower topics