The success of the Huawei Mate X has always been in doubt. But, improbably, sales have actually been fairly decent, with the Chinese tech giant claiming to be flogging 100,000 each month (in Chinese). That's not too bad, considering the unfortunate geopolitical circumstances Huawei finds itself in.
Announced at MWC 2019, the Huawei Mate X was one of the first foldable phones to hit the market. It was also a victim of bad timing, with its release foreshadowed by the Trump Administration placing Huawei on an entity list in May 2019 — thereby preventing American companies from doing business with it.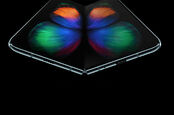 If at first you don't succeed, Fold? Nope. Samsung redesigns bendy screen for fresh launch in September
READ MORE
This has forced Huawei to limit sales of the device to the Chinese market, where it remains the largest handset brand. The entry-level Mate X model retails at roughly $2,500 — or nearly eight times the monthly minimum wage in Shenzhen, where the company is headquartered.
The Mate X was finally released on November 15 last year, following multiple delays to solve out quality control issues. From that, we can extrapolate Huawei has managed to flog circa 200,000 Mate X phones.
Huawei's figures — even though a drop in the water when compared to the broader smartphone industry — contrast favourably with those of Samsung, which has its own model in the form of the Galaxy Fold.
Speaking to Korea's Yonhap News Agency last week, Samsung Co-CEO DJ Koh said the firm had shifted "400,000 to 500,000" Galaxy Fold units since the redesigned phone became available on September 6, 2019.
That figure drastically contradicts fellow Samsung exec Young Sohn's boasts at a tech event in December, where he claimed it had sold one million units. A Samsung rep later explained to the Yonhap news agency that Sohn may have confused sales figures with sales targets.
The Galaxy Fold was also announced around the same time last year as the Mate – at MWC – although its release was delayed to September in order to improve durability.
The firm was ashen-faced when reviewers — including popular YouTuber Marques Brownlee — managed to irreparably break their pricey review units by removing what they thought was a screen protector, but was rather an integral part of the display.
It is unclear if Huawei will be able to repeat the (relative) success of the Mate X. Both Huawei and Samsung are expected to announce successors to their existing units next month, at 2020's Mobile World Congress trade show in Barcelona.
This time will be different, however. Foldable tech is still extremely niche, but the excitement factor has worn off slightly. Huawei will also have to compete with a raft of cheaper handsets from rivals including TCL, Motorola, and… er… Pablo Escobar's brother. ®