This article is more than 1 year old
Step away from that Windows 7 machine, order UK cyber-cops: It's not safe for managing your cash digitally
Mainstream support officially ends today
Britain's cyber-plod have warned people not to use Windows 7 machines for online banking, nor emails, nor any other services that contain sensitive information – which rules out pretty much everything except reading The Register.
Support for the Microsoft operating system officially ends on Tuesday January 14, give or take some caveats, and GCHQ's National Cyber Security Centre (NCSC) wants people to know that that means the likelihood of being compromised is going to jump, now regular security updates are ending.
"The NCSC would encourage people to upgrade devices currently running Windows 7, allowing them to continue receiving software updates which help protect their devices," a spokesman told the British media this week.
"We would urge those using the software after the deadline to replace unsupported devices as soon as possible, to move sensitive data to a supported device, and not to use them for tasks like accessing bank and other sensitive accounts. They should also consider accessing email from a different device."
Unfortunately, the free upgrade from Windows 7 to Windows 10 officially ended in July 2016, so if you are still running Windows 7, you've got three options:
Keep using it knowing that every month the likelihood or your machine being compromised increases.
Pay $139 for Windows 10 Home or $199 for Windows 10 Pro and install it. Or download the operating system for free and activate it if you still have your Windows 7 product key. This process still works.
Get a new machine that bundles Windows 10, migrate your files from your Win 7 box, and chuck that old heap of electronics away (after you have cleaned it of all data).
If none of them appeal, here are three more:
Download an evaluation version of Windows 10, activate it, and keep reactivating every 90 days or so until Microsoft gets bored of the scheme. While it's free, be aware it's not supposed to be for general use and for testing only in a biz environment. Cough. Run it in a virtual machine on top of another OS, if need be.
Pay for Extended Security Updates: you'll need to have Window 7 Professional or Enterprise for this, and pay $50 (for Professional) or $25 (for Enterprise) per seat to stay connected and protected. This is open to organizations capable of purchasing volume licenses, and a word of warning: the price will double each year before it finally dies in January 2023. But, if you are willing to pay for procrastination...
Drop Microsoft altogether and go for a GNU/Linux installation (cough, Debian, cough, Mint, splutter, Red Hat/Fedora, wheeze, OpenSUSE, etc), or macOS if you love Apple that much for some reason.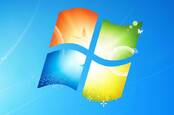 Windows 7 and Server 2008 end of support: What will change on 14 January?
READ MORE
It's been 10 years since Windows 7 appeared and replaced the almost-universally panned Windows Vista. At the time, we described it as "a good effort from the Windows 7 team, though its task was easier than that facing the Windows Vista crew. Windows 7 is a refinement of Windows Vista, whereas Vista was meant to be revolutionary." Reader verdict was the same, summarized as: "Much better than Vista, and the best Windows yet."
Unfortunately as a result, people are stubbornly sticking with it: a worrying 33 per cent of Windows users are still using it, according to NetMarketShare. Which is why hackers and other miscreants are going to be all over the OS from tomorrow: if they can find a hole (or if they have already found one and are keeping it under wraps), and know it won't be generally fixed by Microsoft on subsequent Patch Tuesdays, they'll be quids in.
In short, upgrade. Yes, it's a pain but so is being screwed over by strangers on the internet. ®