This article is more than 1 year old
Packet up, I'll take it: Data-center ops giant Equinix gobbles bare-metal server biz
Meanwhile: IBM Power processors to appear in a Google Cloud near you, if you ask nicely
Data-center operator Equinix has agreed to acquire upstart Packet in what it hopes is a move into the edge compute market.
Based in New York, USA, Packet specializes in providing companies with hosted bare metal servers, letting the customer worry about everything above the hardware layer. The hope for Equinix is that it can use the Packet team and products to improve the bare metal offerings in its own datacenters, particularly in regards to IoT and edge compute projects that often prefer a blank canvas.
"By acquiring Packet we are making it easier for enterprises to seamlessly deploy multicloud solutions at Equinix and extract greater value from our rich ecosystems and global interconnection platform," Equinix chief product officer Sara Baack said of the deal.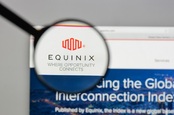 Armed with a billion dollars, Equinix goes after the hyperscalers
READ MORE
"Packet's innovative and agile bare metal service, and neutral approach to software stacks, fit our own cloud-neutral model and match our strategy for helping enterprises flexibly deploy digital infrastructure, within minutes, at global scale."
Packet, meanwhile, is looking at the acquisition as a chance to expand its services to the massive datacenter footprint offered by Equinix.
"We started Packet in 2014 with a vision to redefine the next wave of cloud with a focus on the distribution and automation of fundamental infrastructure," offered Packet CEO Zachary Smith.
"This dovetails perfectly with Equinix's strategy for helping enterprises implement new digital architectures in a growing number of edge locations."
Terms of the deal were not given, though Equinix said it plans to disclose more details when it wraps up the acquisition by the end of March. ®
Speaking of cloud... IBM Power Systems are now available on Google Cloud, it was announced this week, though we note you'll have to email the web giant, or hit up a sales rep, if you're interested. This tech appears to be for enterprise heavyweights rather than the hoi polloi.
This is an interesting development given IBM has tried a few times to get its Power gear going in the cloud, without terribly great success, and Google has previously eyed up Big Blue's high-end processors as an alternative to x86. Maybe together, despite their differences over quantum computing, they can make it work as the IT world's modern-day Power rangers.