This article is more than 1 year old
AppSheet. Gesundheit! Oh, we see – it's Google pulling no-code development into a cloudy embrace
We'll 'empower millions of citizen developers' says Google. Now where have we heard that before?
Google has cleared the way for non-developers to build applications that make use of Google cloud services with the acquisition of Seattle-based no-code development platform AppSheet confirmed.
The idea of no-code and low-code application development is that business users can create solutions for themselves, relieving the burden on stretched development teams. Such platforms can also be treated as rapid development solutions for IT or development teams.
Microsoft has embraced no-code development with its Power Platform, and has talked up the benefits of "citizen development", which may have motivated Google to tick this box on its own platform.
"With the rise of low- and no-code platforms, citizen development has emerged as the strategic way for modern organizations to invest, innovate, and compete," said AppSheet CEO Praveen Seshadri in his announcement of the acquisition. Those words are echoed by Google's Amit Zavery, veep of business application platform, who said: "This acquisition helps enterprises empower millions of citizen developers to more easily create and extend applications without the need for professional coding skills."
AppSheet is designed to integrate with data sources including Microsoft Office 365, Salesforce, Box and Dropbox, as well as databases such as MySQL, SQL Server, PostgreSQL and AWS Dynamo DB. Seshadri said the software "will continue to support and improve our integrations with other cloud-hosted data sources, and databases hosted in other clouds."
He added that, "while the majority of our mobile app users run on Android, we will continue to support and improve the way our apps run on iOS and on web browsers."
The AppSheet platform includes not only instant form-building, but also mapping and location services, machine learning, and workflows for process automation. Built-in features include image capture, barcode scanning, automated emails, signature acceptance, reporting, and custom logic defined through visual programming.
Sample applications include solutions for stock management, equipment inspections, package delivery, job quotes and proposals, driver management, sales lead tracking, field service management, contacts, property management and a variety of chatbots.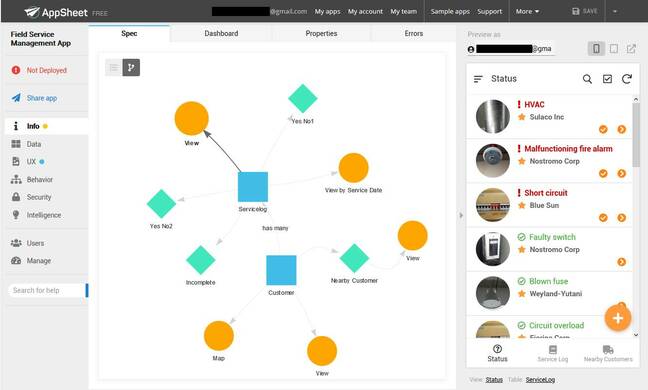 Building an application with AppSheet. Note the preview on the right-hand side, showing how the app will look on a mobile device.
App development can start from scratch or use a copy of one of the samples. Development is browser-based and includes a preview of your application in smartphone, tablet and web browser. Apps require user sign-in by default, and you can choose from a variety of authentication providers including Google, Microsoft, Salesforce, and business domains such as Active Directory, Google Domains and AWS Cognito.
On mobile devices, app deployment requires the AppSheet Android or iOS app, which can connect to any AppSheet application. You can also use a white label native app, which lets you add your own branding and deploy it separately.
Currently AppSheet subscriptions start from $5.00 per user per month, or $10 for a Pro subscription with additional features. Advanced features such as server geolocation and security access logs require a "business subscription_ for which prices are not published.
What we do in the shadows
"Citizen development" does have downsides. It is a form of shadow IT – IT systems created outside the normal company processes – and significant corporate data can end up in applications that may be poorly designed, poorly secured, and difficult to support. Another risk is that applications built with no-code or low-code tools may run into roadblocks where performance or feature requirements cannot be achieved, which may require starting from scratch with a different approach.
Users can expect Google to make AppSheet more sharply focused on Google services. There is not much in today's announcement beyond the fact of the acquisition, though Zavery states that "We look forward to sharing more with you soon." AppSheet remains as-is for the moment, and still appears to be open for new customer sign-ups. ®