Problems at Oracle's DynDNS: Domain registration customers transferred at short notice, nameserver records changed
Must have missed Oracle's December memo: 'It is now time that we part ways with this business'
---
Customers of Oracle's DynDNS who used the service for domain registration - rather than just dynamic DNS - have suffered a sudden involuntary change of registrar, in some cases redirecting websites to those of different companies.
This comes after the enterprise giant sent out notices last month about the transfer of its Domain Registration Business to name.com.
DynDNS is the once-loved Dynamic DNS service which lets you assign a hostname to a server whose actual IP address changes from time to time – such as most home broadband connections.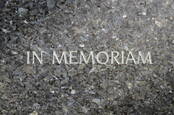 RIP Dyn Dynamic DNS :'( Oracle to end Dyn-asty by axing freshly gobbled services, shoving customers into its cloud
READ MORE
The service originated as a community project in 2001, operated by students at Worcester Polytechnic in Massachusetts, US. It caught on, and in 2008 a company was formed, called Dyn Inc. Growth and venture capital followed, until its acquisition by Oracle in November 2016. By then, Dyn offered a full range of DNS and internet analytics services, but still including a low-cost Dynamic DNS product. You can still buy the DynDNS paid-for product at $55.00 per annum – despite Oracle's announcement last year that it would shutter Dyn's enterprise services from the end of May 2020. "Dynamic DNS (Remote Access) is not impacted and will remain as is," said Oracle.
There was, however, another small corner of Dyn's business, which was domain registration. You could use Dyn as your registrar for a domain name, and configure it to use either Dyn's DNS service or to use nameservers (the authoritative DNS servers for a domain) hosted elsewhere.
In December 2019, Oracle quietly announced on the Dyn community forum that Dyn was transferring its domain registration business to Name.com:
"While we have enjoyed partnering with our customers on Domain Registrations, it is now time that we part ways with this business. Domain Registration customers received a notice on December 4th regarding the transition of our Domain Registration Business to name.com," said Oracle technical analyst Michael Taylor (formerly a communications professional at Dyn).
Customers who spotted the notice were referred to a FAQ which mostly links to Name.com help pages. Customers should also have received an email regarding the change. Absent from the FAQ was any detail on timing, but it appears that domains were transferred to Name.com automatically and it was down to the customer to log in to Name.com and follow a "claim account" flow, in order to continue managing their domains.
This has not proved to be a smooth process in all cases. The email about the change apparently went astray in some cases, and in some instances (where the domain did not use Dyn's DNS service) the nameservers were changed. "In the case of my company domain, it was pointed at some other company site," said a Reg reader who emailed us.
In another tale of woe posted in Oracle's user-to-user support forum for Dyn services, a user gets the message "name resolution is blocked and has been cancelled due to administrative reasons," when logged into their Dyn account. "Try Name.com is the response from Taylor; but once the user gets there, they are confronted with: "Sorry, but we do not have any record of this domain."
"I would encourage you to file a complaint with ICANN," says another user, who has been "trying to transfer our domain since approximately December 20 after removing the locks put in place by name.com, but there remains a 'Registry' lock put in place by Oracle America, Inc."
Yet another customer took to Twitter to enquire: "Why have you stolen my domain and sold it to name.com ... give it back. You've deleted my mx record but want to send me an email to verify ownership. Did anybody actually think this through?"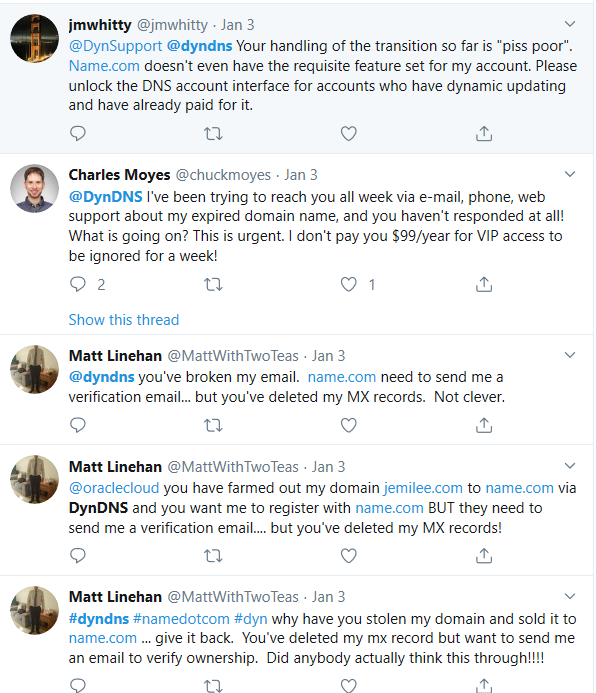 Customers take to Twitter with Dyn domain migration issues.
These are no doubt some of Oracle's smallest customers, but the hasty timing and poor communication reflects badly on this enterprise stalwart. The proper working of DNS is critical to websites, email and applications and when it goes wrong, it is – among other things – a huge security risk for active domains. We have asked the company for comment and will report back in due course. ®