Updated The University of California, Berkeley is under pressure to cough up more than $5m to reimburse computer-science students who were denied benefits and tuition fee refunds despite working as part-time teaching assistants.
This comes after UAW Local 2865 – a union representing more than 19,000 tutors, graduate student instructors, and teaching assistants at the top American public college – filed an official grievance on behalf of student teachers to the UC system's internal labor relations board.
It was claimed hundreds of students – the majority of them undergraduates in the Department of Electrical Engineering and Computer Sciences (EECS) – were hired over the years as part-time teaching assistants to tutor junior undergrads, and that their working hours were cynically chosen to fall just under a certain threshold so that the university could avoid fully compensating them.
That threshold, we understand, was 25 per cent of a normal working week, or 10 hours in a 40-hour week. Thus, by keeping student tutors under that 25 per cent level, uni administrators avoided lowering the undergrads' substantial tuition fees, picking up their childcare bills, and providing healthcare benefits, as laid out in their contract.
That justification hit a brick wall on Tuesday.
At first the undergrads' complaint could not be resolved by the labor relations board, and so the union took the matter to arbitration. A neutral third-party arbitrator, appointed in agreement by the union and the university, this week ruled in favor of the students. Now, UC Berkeley owes the students more than $5m (£3.8m) in compensation.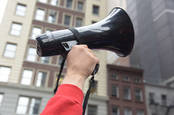 Google security engineer says she was fired for daring to remind Googlers they do indeed have labor rights
READ MORE
We understand the grievance stated that, by employing students at 20 per cent rather than 25, the university was "circumventing the fee and health benefits remissions and childcare reimbursements agreed to in the contract," specifically Articles 4, 11 and 14. The complaint demanded the college "make whole all losses" incurred by the part-time tutors.
The arbitrator's decision means that a teaching assistant who, for example, worked 20 per cent FTE in the Fall semester last year, and did not get a reduction in fees, is expected to receive roughly $7,500 from the university in tuition fee remission. Undergrads who taught in three or more semesters may, therefore, be in line for more than $20,000 in refunds.
"Berkeley has been employing teaching assistants for several decades," Nathan Kenshur, a mathematics student and the head steward for UAW 2865 at UC Berkeley, told The Register this evening.
"The university must employ teaching assistants in general to provide instruction. The 20 per cent appointments specifically have been used recently by the EECS department to respond to rapidly increasing enrollment.
"Our union argued that the use of 20 per cent instead of 25 per cent appointments was done to avoid paying the tuition waiver, making these hundreds of 20 per cent appointed teaching assistants a budget-friendly way to respond to huge class sizes."
A UC Berkeley spokesperson declined to comment beyond saying it was still "reviewing the decision." ®
Updated to add
The university will pay out, we're told. A spokesperson told us:
While we are disappointed with the arbitrator's decision, we accept the decision and will abide by it. We will work with the union to determine how to implement the decision.
The decision only applies to EECS, not all university departments, and at this point it is unclear how many students may be impacted or what the cost for the compensation might be. Identifying which group of students qualify for lost compensation, which could include partial fee remission, child care assistance, and health benefits, will take some time.
Bootnote
If Berkeley seems familiar to you, it's because it is the B in BSD: the Berkeley Software Distribution operating system, descendants and components of which are still widely used, which was developed and distributed by the Computer Systems Research Group at UC Berkeley.