UK doctors' union the British Medical Association (BMA) is seeking clarification on how GPs will access the £40m funding for single sign-on to health systems recently promised by health and social care secretary Matt Hancock.
When it trumpeted about the project at the beginning of January, the Health Department said the plan was to cut time spent by clinical staff logging into IT systems before they can see patients.
"NHS staff currently have to log in to multiple computer programmes when tending to a patient, with each programme requiring its own login details. Some staff need to log into as many as 15 different systems."
It went on to say: "The investment will ease the administrative burden on NHS staff, freeing up time for more one-to-one patient care."
To start with, the money is not new. It will be drawn from the existing 2020-2021 budget for NHSX, the health service's transformation arm.
Secondly, most GPs are not NHS staff; the vast majority of GPs are independent contractors not directly employed by the NHS. As such the history of general practice IT is a long and complex saga of missed opportunities to improve efficiency with technology.
At the moment, GPs get NHS funding for IT systems through the "GP IT Futures framework", which was launched in January 2019 and intended to simplify IT spending for surgeries and create a competitive systems marketplace.
However, a DHSC spokeswoman could not confirm that the single sign-on funding would come through the framework.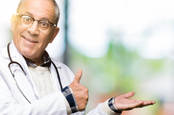 Oh good. They're looking for an NHSX CTO. Hopefully they'll see off 'snake oil' pushers, says GP
READ MORE
"The money will go across the NHS, but the logistics of how that will work are to be confirmed. Further detail is not available, but GPs will definitely get the money as well," she said.
A BMA spokesperson said: "Multiple and slow logins are a daily frustration for GPs, and crucially, take up valuable clinician time – time that should be spent treating patients. Further clarity is needed on how this investment will be implemented, including whether it will be used to support staff working in general practice."
The lack of clarity on GP funding is especially surprising given it was a GP who inspired Hancock to back the project in the first place. Apparently, the health secretary was shocked last October when Professor Helen Stokes-Lampard, then chair of the Royal College of GPs, told him during the RCGP conference that it took 17 minutes for her to sign on to her practice systems. Perhaps she should have mentioned how GPs' IT is funded as well. ®