Europe mulls five year ban on facial recognition in public... with loopholes for security and research
Euro Commission also wants to loosen purse strings for AI investment while tightening reins
---
The European Commission is weighing whether to ban facial recognition systems in public areas for up to five years, according to a draft report on artificial intelligence policy in the European Union.
A copy of the unreleased report [PDF] was published on Thursday by EURACTIV, a Belgian non-profit media think tank.
The European Commission wants time to explore how artificial intelligence and facial recognition technology can be reconciled with Europe's General Data Protection Regulation (GDPR). European lawmakers intend to allow EU citizens to benefit from AI-oriented systems and to encourage European investment in such technology while also seeking to limit the potential risks.
"As we are committed to making Europe fit for the digital age, we have to fully reap the benefits of Artificial Intelligence: to enable scientific breakthrough; to preserve the leadership of EU businesses; to improve the life of every EU citizen by enhancing diagnosis and healthcare or increasing the efficiency of farming," a European Commission spokesperson said in an email to The Register.
"To maximize the benefits and address the challenges of Artificial Intelligence, Europe has to act as one and will define its own way, a human way. Technology has to serve a purpose, and the people. Trust and security of EU citizens will therefore be at the centre of the EU's strategy."
The EC's spokesperson said the Commission intends to present a plan for a coordinated European approach on artificial intelligence, as described by EC President Ursula Gertrud von der Leyen in her Political Guidelines.
In keeping with those goals, the draft paper describes a series of questions that need to be answered to develop a functional regulatory framework.
"In spite of the opportunities that artificial intelligence can provide, it can also lead to harm," the report says, pointing to material concerns like loss of life – e.g. the fatal crash involving an Uber self-driving car in 2018 – and intangible concerns like loss of privacy and unfair treatment – such as discriminatory Facebook job ads.
The document describes five potential regulatory options, one of which focuses on the use of artificial intelligence by public authorities and singles out facial recognition as particular application that should be addressed.
The proposed ban "would mean that the use of facial recognition technology by private or public actors in public spaces would be prohibited for a definite period (e.g. 3-5 years) during which a sound methodology for assessing the impacts of this technology and possible risk management measures could be identified and developed," the report says.
But there would be exceptions, for research and development and for security purposes. And the paper doesn't specifically address scenarios like images captured in Europe that might be run through facial recognition algorithms at a later date by private sector entities operating outside Europe.
Other regulatory options explored in the paper include: voluntary labeling, mandatory risk-based requirements for high-risk applications, AI-tailored legislation addressing safety and liability, and an AI-specific regulatory framework.
The paper, however, stresses that these contemplated rules would address process rather than results. In other words, a maker of a self-driving car would be able to declare compliance with EU requirements and could then slap an "ethical/trustworthy artificial intelligence" label on the vehicle without undergoing testing that might prove that claim.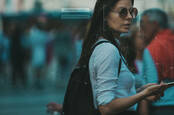 Facial-recognition algos vary wildly, US Congress told, as politicians try to come up with new laws on advanced tech
READ MORE
Facial recognition remains a fraught topic in Europe, as it is pretty much everywhere else people have a say in their own government.
In a blog post published last October, EU data protection supervisor Wojciech Wiewiórowski warned that facial recognition may not be ethically compatible with democracy.
"We need to assess not only the technology on its own merits, but also the likely direction of travel if it continues to be deployed more and more widely," said Wiewiórowski. "The next stage will be pressure to adopt other forms of objectification of the human being, gait, emotions, brainwaves."
"Now is the moment for the EU, as it discusses the ethics of AI and the need for regulation, to determine whether – if ever – facial recognition technology can be permitted in a democratic society. If the answer is yes, only then do we turn questions of how and safeguards and accountability to be put in place." ®