Autonomous Logistics Information System gets shoved off the F-35 gravy train in favour of ODIN
Snafu-ridden maintenance software behemoth to be replaced
The US military is dumping its Autonomous Logistics Information System (ALIS) in favour of ODIN as it tries to break with the complex past of its ailing F-35 fighter jet maintenance IT suite.
ALIS is the software suite that comes bundled with the F-35 fighter jet. A Lockheed Martin product, ALIS is intended to be a proactive maintenance suite: it tracks the health of each jet, tells supply systems when to order parts and tells maintainers what needs doing and when.
At least, that was the theory. Instead the all-encompassing suite has become so unwieldy and problem-ridden that the US armed forces are ditching it in favour of a new thing called ODIN, or Operational Data Integrated Network.
Ellen Lord, the US Department of Defense's chief arms buyer, told Reuters that ODIN (also an LM product) would be produced "with the voice of the maintainer and the pilots at the forefront of the requirements list."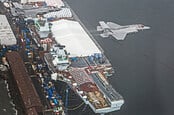 Your F-35s need spare bits? Computer says we'll have you sorted in... a couple of years
READ MORE
Far from meeting its originally envisioned role, ALIS was so bad that the US Government Accountability Office, an auditor similar to Britain's National Audit Office, reckoned one US Air Force unit wasted 45,000 working hours per year working around ALIS's shortcomings. In 2018, US Marine Corps station Beaufort was suffering spare part shortages of up to two years, thanks to ALIS making a hash of its spare part systems.
The system has not been without controversy: some F-35 customers nearly pulled out of their hugely lucrative contracts after discovering just how much data ALIS funnelled back to America.
ALIS is due to be fully replaced by ODIN, which may or may not be a rebranded later version of ALIS, by 2022, according to reports. This means it is likely to remain in use by the UK for a few years to come, including during HMS Queen Elizabeth's maiden operational deployment to the South China Sea next year. ®