This article is more than 1 year old
Stolen creds site WeLeakInfo busted by multinational cop op for data reselling
One Irishman and one Dutchman both nicked
Two men have been arrested after Britain's National Crime Agency and its international pals claimed the takedown of breached credentials-reselling website WeLeakInfo.
In a collaboration between British, Northern Irish, German, US and Dutch police agencies WeLeakInfo was taken offline yesterday with two 22-year-olds alleged to be linked to its operation being arrested at the same time.
The NCA began looking closely at the site, which is said to have offered paid access to around 12 billion items of personal data, in August 2019. In a statement the agency alleged that credentials from the site were being used in cyber attacks affecting Britain, Germany and America.
The two arrested men were said, by NCA investigators, to have made £200,000 from running the site. One hailed from Fintona, Fermanagh, Northern Ireland, while the other is from Arnhem in the Netherlands.
"Online payments tracing back to IP addresses believed to have been used by the two men point to them being heavily involved in the running of the site," said the NCA in a statement, which included allegations that the two had been paying "infrastructure companies" in Germany and New Zealand to host data.
The US Department of Justice also chipped in to allege:
The website had claimed to provide its users a search engine to review and obtain the personal information illegally obtained in over 10,000 data breaches containing over 12 billion indexed records – including, for example, names, email addresses, usernames, phone numbers, and passwords for online accounts. The website sold subscriptions so that any user could access the results of these data breaches, with subscriptions providing unlimited searches and access during the subscription period (one day, one week, one month, or three months).
A dozen suspects in a separate UK investigation into purchasers and deployers of a particular strain of trojan is said to have linked them all to WeLeakInfo.
The site was taken down on 15 January, according to Bleeping Computer, which noted that the takedown seems to have happened before the arrests – with WeLeakInfo's operators tweeting about apparent "technical problems" at 21:28 UTC that day.
Although the NCA boasted that the takedown was achieved by 23:30 on 15th, the US FBI was in charge of that.
[status] Investigating: We are currently investigating this issue. https://t.co/9vzK4O49gw

— We Leak Info (@weleakinfo) January 15, 2020
Andrew Shorrock, the NCA's senior investigating officer for the case, said in a canned statement: "These arrests have resulted in the seizure of the site's data which included 12 billion personal credentials and so work is continuing by law enforcement to mitigate these and notify the sites that were breached."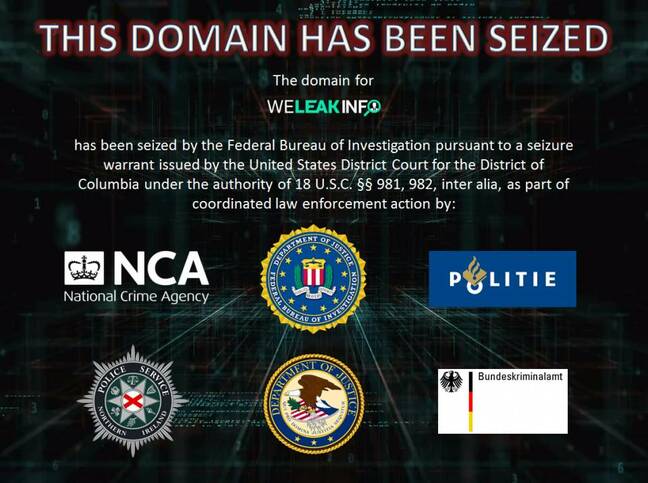 Dat dayglo effect tho...
Detective Superintendent Richard Campbell, head of the Police Service of Northern Ireland's Cyber Crime Centre, beamed in a similar canned statement: "We were pleased to play our part by arresting a 22-year-old man in Fintona [County Tyrone, NI] on suspicion of fraud and for encouraging or assisting contrary to S46 of the Serious Crime Act 2015. He has since been released on bail pending further enquiries." ®