This article is more than 1 year old
To catch a thief, go to Google with a geofence warrant – and it will give you all the details
Investigators ask Chocolate Factory to help them connect the geographic dots
At 1030 on April 27, 2019, four unidentified individuals attempted to rob a Brinks armored truck parked outside of Michaels, an art supply and home decor store at the Point Loomis Shopping Center in Milwaukee, Wisconsin. To find out who they are, local authorities plan to ask Google.
According to an affidavit [PDF] filed by Matthew Gibson, a law enforcement officer with the Milwaukee FBI Violent Crime Task Force, the Brinks driver narrowly escaped a confrontation with one of the robbers, armed with an AR-15 semi-automatic rifle, by retreating into his vehicle and closing the door.
Unable to enter the truck, the masked robbers fled in a green Honda Accord without license plates.
The following morning at around 0109, Milwaukee Police were called to the scene of a burning vehicle, subsequently determined to be the same green Honda – reported stolen a week earlier – that the unsuccessful thieves had used to escape the crime scene.
The police proceeded to collect surveillance video from houses near the torched Accord, and noticed the suspects getting into an older model Honda CRV and a white pickup truck shortly after the failed robbery.
The surveillance video shows the Honda CRV arrived in the neighborhood at 0709 on the morning of April 27. And when it departed, no one got into the driver's seat, indicating that a driver had waited with the car for accomplices to show up.
Citing past experience, Gibson speculates that the robbery suspects may have used their mobile phones while doing reconnaissance for their rendezvous point and that the getaway driver may have done so while killing time in the CRV.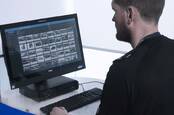 Unlocking news: We decrypt those cryptic headlines about Scottish cops bypassing smartphone encryption
READ MORE
So the Milwaukee County District Attorney's Office has requested that Google provide the location data history, sourced from GPS, Bluetooth, and Wi-Fi signals, from every device in a small geofenced area – the 25 meters around the spot occupied by Honda CRV.
The authorities want Google to provide an anonymized list of every device reporting its location back to the Chocolate Factory from 0645 to 1115 on the morning of the failed robbery. Investigators will then review the list to determine the devices they want Google to identify through personal information.
This appears to be an example of the sort of geofence warrant described by the New York Times last year in which authorities ask for information about every network-connected device within a given set of map coordinates rather than for details about a specific suspect's devices.
Google reportedly has a database called Sensorvault in which it stores location data for millions of devices going back almost a decade.
And, it seems, it's open for business. ®