US court rules: Just because you can extract teeth while riding a hoverboard doesn't mean you should
We get it. You are a skilled dentist. Sorry, 'were'
Since Marty McFly swooped into pop culture on a hoverboard in 1985, the wheelless wonders have cemented their position as a litmus test for living in "The Future™" alongside other sci-fi paraphernalia like lightsabers, jetpacks and flying cars.
And now they're here! Well, sort of. Back To The Future apologists will point out: "It isn't a hoverboard, it's a motorised skateboard with the wheels on the wrong way."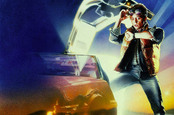 Great Scott! Is nothing sacred? US movie-goers vote Back To The Future as most-wanted reboot
READ MORE
Think a handlebar-free Segway for the kiddiwonks, and seeing that Segways are widely accepted as a red flag for douchebaggery, the faux-hoverboards have yet to take the city commute by storm.
Indeed, just because you can doesn't mean you should – a pearl of wisdom utterly lost on an Anchorage dentist who was filmed performing a tooth extraction while whizzing about on one of the toys.
A lawsuit (PDF) filed by the state of Alaska in 2017 states: "Seth Lookhart performed a dental extraction procedure on a sedated patient while riding a hoverboard and filmed the procedure and distributed the film to persons outside his dental practice," thereby flouting "minimum professional standards of dentistry."
An incredibly stupid stunt, sure, but that's not all. According to a release from the Department of Law on Friday, Lookhart was convicted of 46 felony and misdemeanor counts after a five-week trial in Anchorage Superior Court.
The charges were padded out with gratuitous medical assistance fraud in which Lookhart billed Alaska Medicaid for unnecessary and unjustified procedures – namely using intravenous sedation for non-emergency dental work.
"This practice quickly became very lucrative for Dr Lookhart resulting in his practice alone being responsible for 31 per cent of the total Medicaid payments for IV sedation in 2016," the Department of Law said.
Superior Court Judge Michael Wolverton described the state's evidence against the dentist as "simply overwhelming" and said Lookhart "believed his scheme was foolproof" and that he could get away with it "indefinitely".
To top it all off, the poor sod in the chair while Lookhart wobbled about on the Argos tat told the court in December that she hadn't consented to the caper.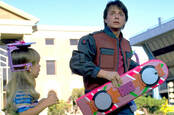 Alaska dentist 'pulled out patient's tooth while riding a hoverboard'
READ MORE
A report from the trial by KTUU quoted prosecutor Joan Wilson as asking Veronica Wilhelm: "When did Dr Lookhart get your approval to take out your tooth on a hoverboard?"
She responded: "He never did. I obviously wouldn't have approved that. That's dangerous."
"If you were awake and not sedated when Dr Lookhart came into the operatory on a hoverboard, what would you have said to him?"
"I would've said 'Hell no!' No, that's unprofessional. It's crazy."
Lookhart reportedly texted the video to at least eight people, bragging that it represented "a new standard of care."
Now he's scheduled to be sentenced on 30 April.
You see, what he should have done – if we pretend for a moment that Lookhart is just an idiot and not a fraudulent scumbag too – was jump in the DeLorean, travel back to when his patient was tucking into that tenth Creme Egg, and knock it out of her hand. Much safer. ®