Opera hits back at 'short seller' whose report claimed its 'predatory' microloan droid apps could hurt, er... investors
Nothing to see here, insists browser-maker
Opera has responded to accusations that it offers predatory short-term loans to some of the world's most disadvantaged communities to shore up its financial results.
The report by Hindenburg Research, which describes itself as "speciali[zing] in forensic financial research" and is described by Wall St analysts as "an activist short-seller", claims that four short-term loan-flinging Android apps aimed at India, Kenya, and Nigeria and owned by Opera violate new Google Play Store rules introduced last year.
The apps concerned are CashBean, OKash, OPay, and OPesa.
The apps claim to offer maximum annual percentage rates of 33 per cent or less, but the report claimed that in reality, the rates were much higher - ranging between 365 to 438 per cent in some cases.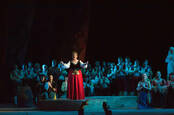 Opera sells open-source Chromium browser for $600m to Chinese bods
READ MORE
Hindenburg Research accused Opera of advertising loan terms differently in its Android apps to what the company actually offers. The OKash app, for instance, offers rates ranging between 91 to 365 days. But emails from the company ostensibly reproduced by Hindenburg show that loans in fact range from 15 to 29 days - well below the Play Store's 60-day minimum.
If repayments were late by one day, some loans reached the downright stupid levels of 876 per cent, Hindenburg claimed. The apps were also alleged to have accessed borrowers' phone contact lists to harvest the details of friends, family, employers, and co-workers with texts and calls threatening legal action until the money was repaid.
Hindenburg accused Opera of "window dressing" its financial results by using the dubious loan apps to artificially prop up its struggling main browser business. The company's web browser market share has dropped by roughly 30 per cent since it went public last July.
Opera's short-term loans business now accounts for 42 per cent of the company's revenue, it noted, referring to figures from Q3 2019 ended September 30, 2019 (PDF). For the quarter, Opera listed sales from "origination fees and interest" as $39.858m of its total $93.678m topline. Opera said in a November release accompanying the results that its "microlending business more than tripled revenue versus the second quarter; driven by 5 million loans totaling more than $250m in total loan value". This is up from 1.8 million microloans it handed out with a book value of $70m in the previous quarter.
But with all of the apps removed from the Google Play Store at the time of publication, possibly as a precaution, it would seem that the business line is coming under scrutiny.
In response to the report, Julia Szyndzielorz, a senior public relations manager at Opera, said: "We believe Hindenburg has issued this report with the attempt at creating a situation to short Opera shares."
She told us: "The Company believes that the report contains numerous errors, unsubstantiated statements, and misleading conclusions and interpretations regarding the business of and events relating to the Company."
Hindenburg responded by saying that it stood by its research, adding that its number-crunchers found it "telling that the company is unable to detail a single inaccuracy in our report." ®