This article is more than 1 year old
CityFibre relieves TalkTalk of its FTTP sister biz for £200m – after Boris win blows away Labour's nationalisation vow
Deal will crank telco's reach up to 8 million premises in UK
Goldman Sachs-backed telco CityFibre has snapped up TalkTalk's fibre-to-the-premises (FTTP) network for £200m, two months after the deal was delayed during the general election.
The sale, subject to shareholder approval, will include TalkTalk's entire network and customer base in the areas it has networks. The acquisition will increase CityFibre's coverage from five million to eight million premises in the United Kingdom.
TalkTalk originally emerged as a competitor to slowcoach national operator BT in 2014, when it built a fibre network in York together with Sky (then BSkyB) and CityFibre. Four years later, the company established FibreNation, which currently provides fibre broadband to 49,000 premises and plans to expand its network by three million customers.
The sale was put on ice last year after the Labour Party pledged to nationalise BT's Openreach network if it won the December election. The decisive Conservative victory under Boris Johnson removed the threat, allowing the deal to go through. The prime minister has pledged to deliver full-fibre broadband to the entire UK by 2025.
Industry analyst Megabuyte reckons the deal is a good outcome for TalkTalk, which is in the process of simplifying its business from a network builder and operator to a pure reseller.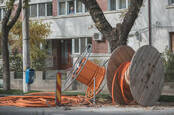 TalkTalk says it's yet to close deal on FibreNation as UK telecoms industry reels over Labour's nationalisation plans
READ MORE
Tristia Harrison, chief executive of TalkTalk, said in a statement: "Today's agreement is good news for TalkTalk, and good news for Britain and its full-fibre rollout ambition."
CityFibre chief exec Greg Mesch added: "Today's announcement establishes CityFibre as the UK's third national digital infrastructure platform, allowing millions more consumers and businesses to benefit from access to faster, more reliable services."
In April, CityFibre lost a judicial review against the UK's Advertising Standards Authority after the regulator decided that the term "fibre broadband" could include mixed fibre and copper cables.
The company separately announced changes to its agreement with Vodafone, which will open up its network to other providers sooner than planned. The partnership with Vodafone aims to bring full-fibre broadband to five million homes by 2025. ®