Enterprise skinflints, rejoice: AWS slashes cost of disaster recovery, Kubernetes services
CloudEndure DR gets cheaper, new host-level backup for VMs as AWS looks to lock 'em in
---
AWS has lopped 80 per cent off the price of its CloudEndure disaster recovery service and 50 per cent off Kubernetes (K8s) clusters.
Israel-based CloudEndure was snaffled by AWS in January 2019. The service it provides is based on agents installed into the machines you want to cover, which can be virtual or physical, cloud-based or on-premises. The agent continuously replicates the machine image to AWS VMs and EBS (Elastic Block Storage) volumes.
These VMs are described as "lightweight" and support multiple source machines, with one target disk for each source disk. If failover is required, the system provisions a production system on AWS, including VMs, network and firewalls. The CloudEndure system avoids running any replicated machines unless required, which means no additional software licenses are needed.
CloudEndure DR used to be priced from $45.00 to $99.00 per source machine, depending on the number of machines and the length of the contract. AWS has now reduced the price to $0.028 per machine per hour on a pay as you go basis, which works out to around $20 per month. This means an 80 per cent discount only if you were paying the maximum price before, but it still adds up to a hefty reduction.
AWS has some incentive to price this keenly, since recovered systems will be up and running on its cloud and there must be some chance that on-premises customers, for example, will simply leave it there long term. The CloudEndure system can also be used for migration.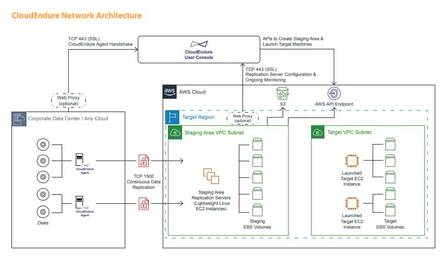 CloudEndure architecture (click to enlarge)
Microsoft's Azure Site Recovery to Azure is currently $25.00 per month per instance protected, so AWS is trying to more than match its rival.
AWS has also recently rolled out host-level backup of EC2 (Elastic Compute Cloud) virtual machines. This applies both to VMs and attached EBS volumes. A host-level backup is managed outside the VM itself and therefore should work regardless of the operating system in the machine instance itself. Backup and restore is done from the AWS Backup console or via an API.
In another move that signals a price war, AWS has reduced the price of its Elastic Kubernetes Service by 50 per cent, to $0.10 per hour per EKS cluster. This is not the whole cost of your K8s deployment since you also pay for the other AWS resources you use, such as EC2 instances or EBS volumes, for which no price changes have been announced.
At the re:Invent conference in Las Vegas last month, AWS stated that it is the largest K8s provider while also promoting its own ECS (Elastic Container Service) as its preferred solution for many customers.
K8s is open source and on offer from all the major cloud vendors, including Google, which has some momentum as its inventor. This new pricing shows that AWS's enthusiasm for ECS will not prevent it from competing aggressively in the K8s market. ®