This article is more than 1 year old
Crown Prince of Saudi Arabia accused of hacking Jeff Bezos' phone with malware-laden WhatsApp message
Mid-East nation slams 'absurd' claim, UN report to emerge
Updated Candid pictures used to threaten Amazon boss Jeff Bezos were exposed not by his current paramour's brother, as some believe, but through a sophisticated hacking operation personally directed by the crown prince of Saudi Arabia, Mohammad bin Salman, The Guardian suggests.
The paper today claims to have been told by anonymous sources that Bezos' phone was hacked using a WhatsApp message from the personal account of bin Salman himself.
The message, according to the sources, was an infected video file sent on May 1, 2018, and it immediately started siphoning large amounts of data from the phone, and sending it to an external source. At the time, Bezos and the prince were otherwise exchanging friendly messages, we're told.
Fast forward to January 2019, and tabloid rag The National Enquirer revealed the Amazon CEO, who had split from his wife, was dating telly-star-turned-helicopter-pilot Lauren Sanchez – and leaked private text messages sent between the new couple.
And while it was believed the source was Sanchez's brother, an investigation led by Bezos's security expert Gavin De Becker concluded, remarkably, that the Saudi Arabian government was behind the leak. The Guardian report appears to back this account up, but it is possible that De Becker's conclusion led indirectly to the newspaper's piece.
Team Bezos's suspicion of state-level spycraft was then reinforced when the National Enquirer threatened to publish compromising pictures of the tech zillionaire also taken from his phone.
Bezos said that unless he and De Becker signed an agreement in which they publicly stated that their probe had not discovered "any form of electronic eavesdropping or hacking in their news-gathering process," and was not "instigated, dictated or influenced in any manner by external forces, political or otherwise," the Enquirer would release the billionaire's intimate selfies.
Jamal Khashoggi
De Becker, meanwhile, concluded Bezos's phone was compromised by the Saudi government, almost certainly due to his position as owner of the Washington Post, an influential voice in the corridors of power. The Post was publishing fierce critiques of bin Salman by Saudi journalist Jamal Khashoggi at a time when there was almost universal praise of the crown prince over his reform efforts.
Bezos took the decision that "rather than capitulate to extortion and blackmail," he would instead "publish exactly what they [the National Enquirer] sent me, despite the personal cost and embarrassment they threaten."
That left De Becker free to publish his conclusion of Saudi involvement several months later. In his article, he noted that his "investigation is now complete. As has been reported elsewhere, my results have been turned over to federal officials."
He refused to disclose details but said he would state "one key fact" – that his team had "concluded with high confidence that the Saudis had access to Bezos' phone, and gained private information." We have asked De Becker if he has any comment on The Guardian's claims of direct involvement of bin Salman.
Repercussions
If the Guardian report is true and Bezos phone was hacked through a direct message sent from bin Salman, it may have several serious repercussions.
For one, it will make that much harder for the US government to skirt the question of whether Mohammad bin Salman was directly responsible for the murder of Jamal Khashoggi at the Saudi embassy in Istanbul, Turkey, in October 2018.
Secondly, it will further increase discomfort with bin Salman and Saudi Arabia within US business circles and may see the kingdom cut out of deals altogether: the personal targeting and leaking of compromising information on a potential business partner is not the sort of thing that US business leaders look favorably on.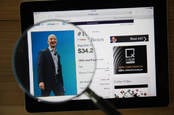 National Enquirer's big Pecker tried to shaft me – but I wouldn't give him an inch, says Jeff Bezos after dick pic leak threat
READ MORE
And thirdly, it could cast a pall over the impeachment hearing of President Donald Trump, which officially began today. Trump stands accused of pressuring a foreign power, Ukraine, to investigate a political rival, Joe Biden.
Trump has made his intense dislike of Jeff Bezos public on countless occasions. And the fact that the US president has refused to accept his intelligence agencies' conclusion that bin Salman was directly involved in the assassination of Khashoggi has already raised countless eyebrows.
Add to that the close relationship between bin Salman, Trump son-in-law and presidential adviser Jared Kushner, and publisher of the National Enquirer, David Packer, and the fact that bin Salman may have personally been involved in an operation to hack and undermine Jeff Bezos, and you have a disturbing series of coincidences and connections.
The timing of The Guardian article, nine months after De Becker initially fingered Saudi Arabia, could be related to the fact that there is a UN investigation into the hacking which the paper itself notes "is considered credible enough for investigators to be considering a formal approach to Saudi Arabia to ask for an explanation."
Asked about the investigation carried out by UN special rapporteur for extrajudicial killings, Agnès Callamard, The Guardian reports that she "said she followed all UN protocols that require investigators to alert governments about forthcoming public allegations." ®
Updated to add
Saudi Arabia has trashed the phone hacking claims, and demanded a probe:
Recent media reports that suggest the Kingdom is behind a hacking of Mr. Jeff Bezos' phone are absurd. We call for an investigation on these claims so that we can have all the facts out.

— Saudi Embassy (@SaudiEmbassyUSA) January 22, 2020
Meanwhile, the UN is set to wade in.
"A United Nations investigation to be released Wednesday will report that Amazon founder Jeff Bezos's cellphone was hacked in 2018 after he got a WhatsApp message that came from an account purportedly belonging to Saudi Crown Prince Mohammed bin Salman," according to the Washington Post's source.
Final update
For what it's worth, it's not a certainty the Amazon CEO's photos and messages were stolen and leaked by Saudi hackers. US prosecutors have evidence that Bezos's girlfriend gave intimate the texts to her brother who then leaked them to the National Enquirer, the Wall Street Journal reports.