Co-Op Insurance and IBM play blame game over collapse of £175m megaproject
What happens when big tech ventures completely fail? A High Court trial!
---
In a long-running spat, British insurer Co-Op Insurance is suing IBM for £155m over what it claims is Big Blue's "deliberate" failure to deliver a new IT platform for the British financial services provider.
In legal arguments shown to London's High Court this week, CIS General Insurance Ltd (CISGIL) – the insurance arm of the well-known Co-Op brand – said IBM UK Ltd had screwed up the Co-Op's Project Cobalt to the point where even the first stage of the £175m contract had not been delivered 15 months after its deadline.
In documents seen by The Register, the Co-Op explained:
"Project Cobalt was part of a wider transformation programme whereby CISGIL sought to migrate its general insurance business from the legacy IT infrastructure it shared with the Coop [sic] Bank, which was being separated from the Coop Group, to a new, modern insurance platform."
It added: "Project Cobalt also marked the start of a strategic move by IBM into the insurance platform sector," saying that IBM subcontracted the work to "a company called the Innovation Group", or IG. That firm's Insurer Suite product, lawyers told judge Mrs Justice O'Farrell, "did not exist as a configurable out-of-the-box solution as had been represented" by IBM.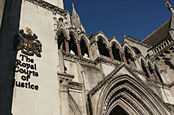 IBM: Co-Op Insurance talking direct to coding subcontractor helped collapse of £55m IT revamp project
READ MORE
Jacqui Boast, then CEO of IG, is said by the Co-Op to have told IBM in late 2015, not long after the contract was signed, that "Insurer Suite had been written for the US insurance market, not the UK insurance market, and that it had to be and was being substantially rewritten and re-developed" for the Co-Op. This is disputed by IBM, which promises to show the court a "quantitative code analysis" proving otherwise.
IBM says in its defence that it terminated the contract after the Co-Op failed to pay "a software licence payment milestone" of £2.9m, something IBM described as "the tip of the iceberg". The Co-Op, said the American company, demanded IBM "complete the project without recompense, after which CISGIL would commence a claim for losses allegedly suffered owing to the delays".
Even though the Co-Op disputed IBM's progress on the project and withheld payment, IBM will argue that the Co-Op's "only lawful choice" at the time was to "pay now and argue later".
Thanks to the Co-Op failing to pay, argues IBM, the contract was effectively torn up and so none of its penalty clauses should apply; neither, says the US tech firm, should it be liable to pay damages to the Co-Op for the project's failure.
The trial will continue for the rest of this month. The Register will be covering key moments. The court will hear evidence from key people within the Co-Op, IBM and IG. ®
Similar topics
Narrower topics