This article is more than 1 year old
*David Attenborough voice* And here we have, in the wild, a rare glimpse... of what may be... a positive IBM quarter
Big Blue rides Red Hat into the black
A tenth of a percent still counts, right?
With the help of its newest acquisition, namely Red Hat, IBM managed to book a rare yet tiny increase in sales. For the fourth quarter of its 2019 fiscal year, ended December 31:
Revenues of $21.77bn were an increase of 0.1 per cent (up 3 per cent adjusted for currency and divested businesses) from $21.76bn in Q4 2018. This marks Big Blue's first quarterly revenue jump since Q2 2018. It also topped analyst forecasts of $21.64bn.
Net income of $3.7bn was up 88 per cent from last year's $1.95bn, though that was because in Q4 2018, IBM wrote down a $1.9bn tax hit. Non-GAAP, net income was down five per cent, year on year.
Earnings per share (non-GAAP) of $4.71 were down three per cent from last year, but ahead of analyst estimates of $4.68.
The Cloud and Cognitive unit posted revenues of $7.24bn, up nine per cent from $6.6bn a year ago. Red Hat revenues were $1.06bn, a 24 per cent jump from $863m last year, when normalized.
Global Business Services revenues dropped 0.6 per cent, with 2019's Q4 $4.24bn haul falling just short of the year-ago $4.27bn.
Global Technology Services reported revenues of $6.9bn, down 4.8 per cent from last year's $7.3bn.
Systems revenue was $3bn, a 16 per cent boost from $2.62bn. The lion's share of this was from IBM's Z business and that department's 62 per cent revenue surge. Networking revenue was up 3 per cent.
Financing revenues were $301m, down from $402m, while the catch-all "other" category reported just $4m in revenues, compared to $507m a year ago.
"We ended 2019 on a strong note, returning to overall revenue growth in the quarter, led by accelerated cloud performance," said IBM CEO and president Ginni Rometty.
"Looking ahead, this positions us for sustained revenue growth in 2020 as we continue to help our clients shift their mission-critical workloads to the hybrid cloud and scale their efforts to become a cognitive enterprise."
For the full year, also ending December 31:
Revenue of $77.15bn dipped 3.1 per cent from $79.6bn in 2018.
Net income was $9.8bn, up 8 per cent from $8.73bn in 2018.
Non-GAAP EPS of $12.81 was down 7 per cent from 2018.
Cloud and Cognitive revenues of $23.2bn topped last year's $22.2bn, just.
Global Business Services revenue of $16.63bn was slightly up from $16.60bn in 2018.
Global Technology Services revenue of $27.36bn dropped from $29.15bn last year.
Full-year Systems revenues of $7.6bn were down from $8bn in 2018.
Global Financing revenues of $1.4bn were down from $1.6bn, while "other" returns fell to $948m from $2.0bn.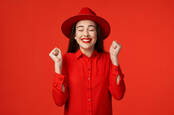 IBM: Why yes, Red Hat is doing great. Thanks for asking. The rest of Big Blue? Sure, wait – someone's at the door...
READ MORE
Speaking to analysts about the earnings report, IBM chief financial officer James Kavanaugh talked up the role Big Blue hopes Red Hat will play in a planned blitz on the hybrid cloud market. The hope is that combined IBM/Red Hat packages will boost not only cloud and cognitive divisions, but also the Global Technology and Business Services business units.
"As client adoption matures and moves through the advisory and application modernization phases, this will naturally extend," Kavanaugh said.
In topping analyst estimates, IBM saw a 3.7 per cent after-hours boost to its share price to $144.30. ®