Only one half of SAP's joint CEOs managed to travel to the World Economic Forum 2020 in Davos by relatively environmentally friendly means, the other opted to jump on a jet plane.
Yesterday it emerged that Christian Klein made the 430km journey from corporate HQ in Germany to the Swiss enclave via a hydrogen-electric powered car, specifically a Mercedes GLC F-cell SUV.
As we pointed out, although the vehicle has zero emissions at the tail-pipe, Klein would need to keep driving it and driving long after Davos to offset carbon emissions produced during its manufacture. And the vehicle's green credentials will also have been dependent on how its fuel is generated.
Klein immortalised the trip via a freshly made Instagram account. All was good. Today, however, SAP confirmed that Jennifer Morgan decided to make a different turn from her fellow CEO, and followed many others by catching a flight.
To be fair, she did fly from the US, which, despite its recent ambition to build a wall along its 3,000+ km border with Mexico, has refused to build a bridge to Europe, making Morgan's journey longer by means other than an aeroplane. She, or SAP, chose not to become the tech exec equivalent of teenage eco-campaigner Greta Thunberg and make a 14-day sea voyage.
SAP informs us that Morgan did take a car from the airport and for that it will "compensate for higher CO2 impact activities that cannot be avoided". It didn't mention the trans-Atlantic credits.
The ERP giant's compensation models include measures "such as embedded internal carbon pricing model for CO2-free train and air travel [and] the implementation of carbon neutral fuel cards for company cars."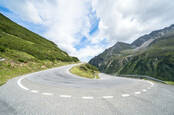 New SAP co-CEO 'runs simple' to Davos in Mercedes hydrogen car
READ MORE
The company is aiming to be carbon neutral by 2025, which would be five years earlier than Microsoft.
SAP took its appearance at WEF 2020 to publicise its commitments to reduce its environmental impact by joining the World Economic Forum's Global Plastic Action Partnership. The software firm says it is planning to launch the next phase of its Plastics Cloud helps businesses move to single-use plastics and invest in materials collection infrastructure.
The service is also designed to companies better understand the impact of the materials they use and recycling infrastructure and policy in each city, region and country.
The measures were discussed at WEF 202O with other businesses, policy makers and NGOs including the Ellen MacArthur Foundation, founded by the record-breaking round-the-world yachtswoman. Perhaps that particular session could have given Morgan some tips on how to sail the oceans. ®