This article is more than 1 year old
Judge snubs IT outsourcers' plea to Alt-F4 tougher H-1B visa rules: Bosses told to fill out the extra paperwork
Homeland Security memo not an abuse of power, court decides
An effort by tech companies to put the Trump Administration's tough new visa requirements on hold has been thrown out by a US federal judge in Arizona.
Eleven outfits, led by outsourcing specialist Kollasoft, asked for a preliminary injunction against the rules, which have placed several new restrictions on applicants of H-1B work visas. This has resulted in numerous visa application rejections, and the tech companies reckon the new rules resulted from a memo that does not have the necessary authority to change the barriers to entry.
But the judge, magistrate John Boyle of the district court of Arizona, rejected [PDF] that argument and opined that the department behind the memo – Homeland Security – has "broad discretion to determine the terms and conditions for admitting nonimmigrants."
The memo itself [PDF] was issued in February 2018, and the technology outsourcers argued it effectively acts as a new rule by adding, among other things, new requirements for documenting foreign nerds' work assignments.
They argue the government didn't go through the proper process for creating new rules – one that would require broader discussion and a public comment period – but that the memo was simply drawn up through internal discussions and so should be put on hold until a legal challenge had made its way through the courts.
But the judge said instead that the agency was right when it said that information about work assignments was necessary for proper evaluation of whether of a visa application is valid and that would "arguably serve as an adequate basis for a majority of the 2018 memo's directives."
Nobody was harmed
Boyle also said the IT consultants couldn't show likely success in the case or irreparable harm if the rules weren't suspended – and so rejected the request.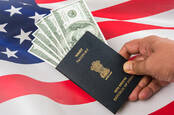 Tech CEO thrown in the clink for seven years for H-1B gang-master role: Crim farmed out foreign staff as cheap labor
READ MORE
The new rules have had a severe impact on the number of approved H-1B visas – or, more accurately, the number of denials – argue the tech companies, which are already upset at the Trump administration's ongoing immigration shakeup.
Specifically, the memo put new restrictions on off-site work – where employees of a company sponsoring a visa actually work at a client's office rather than the company's own HQ. That is a very common situation in the tech industry, and it has been abused by some unscrupulous outfits.
Some believe, with a degree of justification, that the rules were purposefully drawn up to hurt the IT industry as part of a personal vendetta-slash-culture war between Silicon Valley and The White House. Others see it as just part of a larger crackdown on immigration under the Trump Administration's "America First" policy goal. It is likely both. ®