This article is more than 1 year old
The Foot of Cupid emits final burst of flatulence in honour of fallen Python Terry Jones
'Two down, four to go,' quips John Cleese as another member of comedy crew kicks bucket
Obit Actor, writer and Python Terry Jones has died at the age of 77.
Jones died on Monday, less than five years after being diagnosed with a form of frontotemporal dementia (FTD) that progressively impaired his ability to communicate.
Famously a member of the Monty Python team, Jones teamed up first with Sir Michael Palin to write and perform in a number of 1960s comedy shows, including The Frost Report and Do Not Adjust Your Set before the pair created Monty Python's Flying Circus with Eric Idle, Graham Chapman, John Cleese and animator Terry Gilliam.
Jones treated Python fans to characters such as Cardinal Biggles of the Spanish Inquisition and the explosive Mr Creosote. He performed the former role once again during the Monty Python Live (Mostly) shows at London's O2 in 2014.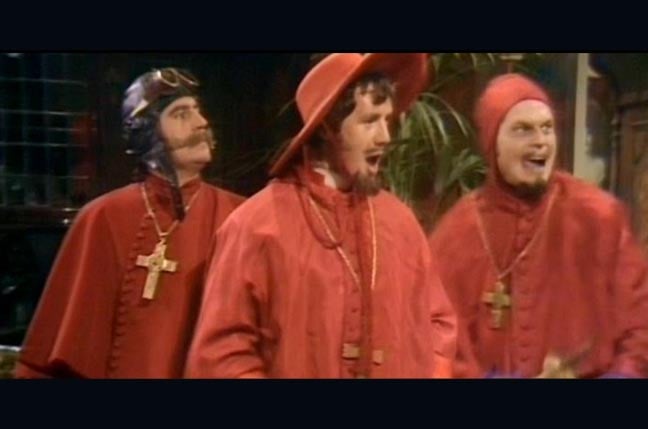 Nobody expects... Cardinal Biggles?
Wales-born Jones took on writing, performing and directing duties in the subsequent Monty Python films; 1975's Monty Python and the Holy Grail, 1979's Life of Brian and finally 1983's Meaning of Life as well as an array of other projects including the TV series Ripping Yarns, again with Palin.
Jones was also a prolific author, penning The Saga of Erik the Viking as well as historic works such as Chaucer's Knight: The Portrait of a Medieval Mercenary, a typically lively take on The Canterbury Tales and pretty much guaranteed to brighten a particularly dry English Literature module.
Fellow Python John Cleese paid tribute to Jones's "endless enthusiasm" while Michael Palin described him as "one of the funniest writer-performers of his generation".
Black Mirror writer Charlie Brooker shared the bucket-filling exploits of Mr Creosote while bidding farewell to Jones.
RIP the actual genius Terry Jones. Far too many brilliant moments to choose from. Here's one random wafer-thin mint. https://t.co/qMrR9aOV9s

— Charlie Brooker (@charltonbrooker) January 22, 2020
For this hack, however, Jones will be forever associated with the shrieking of "SPAM" and the protestation that Brian was most definitely not the Messiah. "He's a very naughty boy!"
Jones was married twice, between 1970 and 2012 to Alison Telfer, with whom he had two children, and to Anna Söderström, with whom he had one child. ®