Stiff upper lip time, Brits: After bullying France to drop its digital tax on Silicon Valley, Trump's coming for you next
Macron suspends cyber levy plan after The Donald has a quiet word
French President Emmanuel Macron has confirmed his country will suspend its plan to slap a digital tax on tech giants after threats from US president Donald Trump to impose trade tariffs.
Macron indicated in a tweet earlier this week he was considering hitting pause on the techno-levies, saying he had had a "great discussion with Donald Trump on digital tax. We will work together on a good agreement to avoid tariff escalation." He then confirmed the decision in a speech at the World Economic Forum in Davos, Switzerland, on Wednesday.
Last year, France approved a new three per cent digital revenue tax on companies with sales of 25 million euros within French borders, and/or 750 million euros globally, as a way to force Californian titans like Google, Facebook and Apple to cough up more in the countries where they make billions of dollars in revenue.
The tax was passed after a collapse in talks to introduce a pan-European version of the digital tax, in large part because the country through which the companies funnel all their European earnings and pay a tiny amount of tax on – Ireland – objected. Ireland also enlisted Sweden and Denmark, and the plans stalled. France promised to kill off its cyber-tax if Europe managed to reach agreement.
That French decision was due to come into force this year, though it became a target of President Trump, who repeatedly threatened to add trade tariffs on French goods such as wine if the tax went ahead and decried Macron's "foolishness" for trying to impose a tax on American companies.
Clearly Macron decided that the smart move was to back away from Trump's current favorite weapon of diplomacy – tariffs – presumably in the hope he will be out of power by the end of the year. Or sooner if Trump's impeachment trial goes as the Democratic Party would like.
Target practice
By standing on its own, France itself made itself an easy target: Macron is expecting to get his finance minister to push harder on getting a European digital tax in place, and a government spokesperson said they now expect that agreement by the end of the year. Suspending the web tax was better than "a trade war that will benefit no one," they added.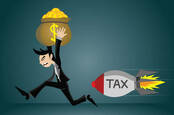 What's that Skippy? Google's coughed up $330m in tax Down Under?
READ MORE
A pan-European approach would make it much harder for the United States to single out a specific country.
Of course, having forced France to back down, President Trump's next move will be to threaten the UK with the same tactic. Blighty also has a digital tax due to come into force in April this year – two per cent as opposed to France's three per cent – and US Treasury Secretary Steven Mnuchin said Trump was planning to pressure British Prime Minister Boris Johnson to drop it too when The Don meets Bojo this week in Davos.
The UK tax is meant to be a temporary measure until a European tax is agreed, and it's not clear whether Johnson wishes to risk a confrontation with Trump at the same time he is desperate to move forward on a trade deal with the United States in order to bolster Britain as it leaves the European Union.
If the UK backs down – Chancellor Sajid Javid has vowed not to – Trump then only has to bully Italy, Austria, and Canada into dropping their digital tax plans. Which he may well do but while the president will be able to claim victory for his form of diplomacy, experts warn that it will only redouble Europe's efforts to agree a tax across the whole of Europe for 2021. ®