This article is more than 1 year old
If you never thought you'd hear a Microsoftie tell you to stop using Internet Explorer, lap it up: 'I beg you, let it retire to great bitbucket in the sky'
We say take off and nuke the entire codebase from orbit. It's the only way to be sure
To mark the arrival of the Chromium-based Microsoft Edge browser, Microsoft software engineer Eric Lawrence, who helped shift Edge to its Google-driven open source foundation, issued a plea to Windows users to let go of Internet Explorer.
Writing in a personal capacity on his own blog over the weekend, Lawrence heralded the new Edge as Microsoft's best browser ever and pleaded with Internet Explorer die-hards to let go of the past.
"It's with love that I beg you… please let Internet Explorer retire to the great bitbucket in the sky," he wrote, without intending any reference to Atlassian's Bitbucket in the cloud. "It's time. It's been time for a long time."
He put it more bluntly on Twitter: "I don't know who needs to hear this, but...don't use Internet Explorer to browse the web."
Lawrence needn't worry about diverging from the company line. Microsoft cybersecurity chief Chris Jackson said more or less the same thing a year ago, albeit with a bit more deference for those who have to support IE.
Microsoft ended support for Internet Explorer on January 12, 2016. Even so, four years on, people still use it, against the advice of pretty much everyone.
About 3 per cent of visitors to The Register last year viewed the site with IE, or spoofed User-Agent request headers to appear to be doing so. According to StatCounter, Internet Explorer usage was 2.55 per cent in December, 2018, and 1.57 per cent in December last year.
Lawrence explains that he was motivated to hasten the migration away from Internet Explorer by the report last week of yet another zero-day security flaw in the aging browser.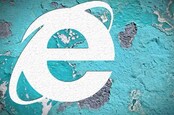 'Supporting Internet Explorer is hell': Web developers identify top needs – new survey
READ MORE
But the obvious arguments for a more modern browser face the ugly reality of enterprise IT: It's never ready when you are. IE is still required in a limited set of circumstances, like mapping a folder to a Sharepoint library, generating a Certificate Signing Request at Certificate Authorities like DigiCert, accessing some banking and government websites in Asia, and in Java Runtime Environment 8 environments, apparently.
Lawrence explains that Internet Explorer shares the WinINET networking stack and cookie jar with native Windows applications like Windows Explorer. The Sharepoint mapping scenario involves Windows Explorer checking an authorization cookie that Internet Explorer put in the WinINET cookie jar.
That may have been appropriate for 2003, Lawrence observes but the introduction of Protected Mode and cookie jar partitioning in 2006 Windows Vista and IE 7 should have prompted a more stable approach.
"The fact that anything depends upon it in 2020 is appalling," he said.
And yet it's somehow not surprising. ®