This article is more than 1 year old
Call of Duty: Modern Warfare fragged our business VOIP: US ISP blames outage on smash-hit video game rush
This is Windstream, going dark...
US ISP Windstream says a video game update is to blame for an outage affecting its business VOIP service earlier this week.
In a notice to customers, seen by The Register, Windstream explained that mass downloads for the latest Call of Duty title throttled its network capacity on January 22. This flood of traffic meant some customers in the southern US were unable to use the service on Wednesday evening.
"The catalyst for this event is another patch release within the on-line gaming community, specifically a 'Call of Duty' release that took place this afternoon," customers were told by Windstream.
"When these patch releases occur, most gaming consoles auto-download files between 10g and 100g at the exact same time resulting in this type of traffic characteristics and over buffer requirements that congest ISP networks."
The latest Call of Duty title, Modern Warfare, was released on October 24. Wednesday's update includes bug fixes as well as the introduction of a crossbow weapon. Consoles automatically received the update. In terms of size, PC users were slurping up 48GB, while Xbox users got a 18.4GB update and PS4 players got a modest 13.2GB update.
"A spike in internet utilization yesterday degraded service for some Windstream VOIP customers who use third-party ISPs to access the product," the ISP told The Register.
"The event ended about 10:30 pm Eastern Time yesterday when internet utilization subsided to normal levels. It's unknown at this time how many of our customers were impacted."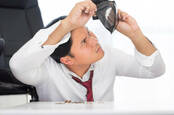 Brit banking sector hasn't gone a single day of 2020 without something breaking
READ MORE
While such outages are not particularly uncommon, usually they happen around large global events. The traffic jam, said Windstream, was so severe that it reached levels usually only seen during major occasions, such as a presidential inauguration or a World Cup finals broadcast.
To make matters worse, Windstream said that its network was further hampered when a circuit running from Atlanta to Washington, DC went offline.
"We did not have an available option to mitigate impact by redirecting to an alternate path," Windstream told punters. "As the patch related traffic slowly decreased, GTT [another ISP] also configured additional capacity on their network to clear the congestion issue into Atlanta."
Fortunately for customers, the outage subsided and, when business hours kicked off again on Thursday morning, the service was restored. ®
Thanks to Reg reader Glen McLeroy for the tip. Let us know if you encounter any similar snafu moments.