This article is more than 1 year old
When world+dog has a data platform too, Cloudera has to stand out before next new shiny distracts investors
Hadoop slinger's big bet joins list of rivals doing the same thing
When Hadoop distributor Cloudera marked a year since it signed off its merger with rival Hortonworks with the appointment of a new CEO, it was hardly a glowing endorsement of the strategy so far.
Rob Bearden, formerly Docker CEO, has three looming priorities as he settles into the Cloudera hotseat: he'll be charged with improving the finances; creating a compelling "story" around its future technology plans; and finding the right balance in the firm's relationship with Hadoop, a once-hyped distributed file system that still has its fans and use cases but remains niche.
Financially, Cloudera is recovering from the shocking results of its first quarter of fiscal '20 ended 30 June, after which the company's stock fell 32 per cent. While the top line has done better since, the company is still running at a loss.
But Bearden, who has also served as CEO of Hortonworks, was a good choice to bring the two companies together, said David Wells, IDC senior research manager for Europe, big data and AI.
"One of his specialisms is financial restructure, as his experience at Docker shows," he told The Register. "He is not purely a technologist and that's a good thing for Cloudera, which has a background as a very technically led company."
Cloudera's chief marketing officer, Mick Hollison, believes – unsurprisingly – the company's financial troubles are behind it.
"We had a particularly tough Q1 of last year, the first full quarter after the merger when we transitioned accounts, brought the two companies together and laid out new sales territories. We have already reported more than $120m in cost synergies since the time of the merger: what that will do for the business is produce more free cash flow."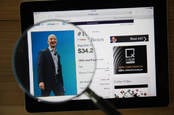 Cloudera shakes off Hortonworks fixation, realises AWS was the big baddie all along
READ MORE
However, he also admitted that part of the problem was presenting a long-term vision for the company after Hadoop, the previous focus of its technology, has lost its lustre as a shiny growth technology.
Cloudera sees its future in the Cloudera Data Platform (CDP), which launched in September 2019 and is designed to produce an integrated approach to how organisations deploy, manage and consume data across on-premises, hybrid cloud and private cloud infrastructure.
"We began to speak about our longer-range roadmap for delivering CDP [in Q1], and in many respects, that kind of froze the market for that particular time period," Hollison said. "But very strong results the last two quarters helped doubling the share price over the last six months."
Not everyone agrees. Although it makes up the cornerstone of the company's future, the vision for CDP is still not that strong, IDC's Wells said.
"It is an area in which it has struggled to succeed. It has been a bit slow and overpromised. In Q1 last year, everyone held their breath. When it did go to market, it was not quite as reassuring as it could have been so people who might have invested were a bit nervous. The company did not seem to respond in effective way to that."
Fellow IDC analyst Carl Olofson, research vice president, database management and data integration software, said the problem with CDP is that too many other vendors have a similar story.
SAS, Teradata, SAP, Talend, Informatica, Tibco, IBM, Dataiku and others all have technologies they describe as data platforms, in some shape or other, taking Cloudera into a scary new world of competition.
"Having a data platform? That is just table stakes," Olofson told us. "Everyone has one and they need one just to be in the game. The question is, what are the other things that Cloudera is offering that makes it different? That is still a question the company has to answer."
That does not mean Cloudera's current users will abandon it, but it does make finding significant growth a challenge.
"Customers will ask, why spend more time and expand the use of Cloudera?" Olofson said. "It is not a question if they will hang around, but will they expand their use?"
Growth is also the challenge for Cloudera's existing market: Hadoop distribution and surrounding technologies. The Cloudera-Hortonworks merger and the acquisition of rival distributor MapR by HPE in August 2019 coincided with the emergence of cloud-based object storage technologies such as AWS S3, Azure BlobStorage and GCP Cloud Storage, which solve many of the same problems as HDFS. Teradata, which once integrated Hadoop in its data analytics platform, now recommends object storage for data ingestion, for example.
The death of Hadoop is overstated, but its use is no longer rapidly expanding, Olofson said. "As people developed more experience, they found the use cases that worked well and those that did not. In the early days of Hadoop, people thought it could be used for anything."
All of which returns us to the question of growth. Investors will stick with loss-making technology companies so long as they exhibit spectacular growth; stop growing and capital is harder to come by. With its future hitched to a cloudy vision of an enterprise data platform and slowing Hadoop market, Cloudera is in serious need of blue-sky thinking.
As Olafson says: "The clock is always ticking." ®