This article is more than 1 year old
Protesters backing Huawei's CFO Meng Wanzhou during her US extradition hearings were 'duped paid actors'
What do we want?! $100. When do we want it? As soon as we finish this shift
Protesters rallying outside court in Vancouver, Canada, this week in support of embattled Huawei finance chief Meng Wanzhou turned out to be paid actors – who said they thought they were extras for a film or music video.
Each person in the group held a white or red-colored poster that carried messages such as "Free Ms Meng Equal Justice!" or "Bring Michael home, Trump stop bullying us."
Meng was in court to fight off America's attempt to extradite her to the Land of the Free: last year US prosecutors charged the Huawei executive with alleged bank fraud, and accused her of busting sanctions by doing business with Iran via the tech giant's stateside subsidiary.
Michael, meanwhile, presumably refers to Canadian diplomats Michael Kovrig and Michael Spavor, who are detained in China ostensibly on spying allegations but really in retaliation for Meng's arrest by Canadian cops in 2018.
Happening now: students parroting the message of ex-Chrétien chief of staff Eddie Goldenberg await Meng Wanzhou's arrival at the Law Courts. Are they paid to be here? #cdnpoli #bcpoli #humanrights pic.twitter.com/02HaTcJN1d

— theBreaker.news (@theBreakerNews) January 20, 2020
Journalists clocked the protesters, and questioned them. One fella claimed he had been paid $100 for what he thought was a music video. A woman, Julia Hackstaff, said she was a victim of a "filthy cheap scam" after she realized she had been lied to.
Hackstaff said she was contacted by the day before the hearings about a job as a "background performer" that promised to pay $100 for two hours' work.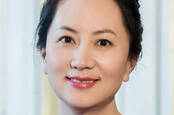 Fine, we'll do it the Huawei, says Uncle Sam: CFO charged with fraud, faces extradition to US over Iran trade claims
READ MORE
"Long story short, turns out it was not an acting job but a real protest!!!" she complained on Instagram. "I realized within the first five minutes of arriving, getting ambiguous instructions about holding a sign and then immediately being approached by a journalist, which at the time I still thought may be part of the actors...Then I realized everything was 'too real' and more journalists came towards me, I knew I had to get out!"
Meng, 47, was cuffed by Canadian police at Vancouver airport over a year ago at the behest of American prosecutors. She was subsequently charged with multiple charges of bank fraud, wire fraud, and selling technical equipment to Iran, violating the US' sanctions, around this time last year.
Her extradition hearings ended on Thursday: Canada's courts will rule at a later date whether Meng should be brought to America to face trial. ®