This article is more than 1 year old
10nm woes, CPU supply shortages, competition from AMD... What? Sorry? Intel can't hear you over the cash register going bonkers
Just don't mention the FPGAs
Intel on Thursday reported $20.2bn revenue for the fourth quarter of 2019, a gain of eight per cent year-on-year, and $72bn for the full-year, a two per cent increase.
Analysts had been expecting something less, around $19.23bn and $70.98bn on average, and the results lifted the chip giants stock in after-hours trading.
CEO Bob Swan, in a canned statement, said more or less that things had gone well, without providing any specifics: "In 2019, we gained share in an expanded addressable market that demands more performance to process, move and store data," he said. "One year into our long-term financial plan, we have outperformed our revenue and EPS expectations."
Not the sort of stuff that gets one booked for a commencement address.
Chipzilla's numbers said as much, though more succinctly. Its earnings per share came to $1.58 for the quarter and $4.71 for the year. Its gross margin for the quarter was 58.8 per cent, down 60.2 per cent in Q4 2018; for the year, its gross margin was 58.6 per cent, down from 61.7 per cent in 2018.
Intel's fourth quarter operating margin came in at 36 per cent, up half a percentage point from the same period a year ago.
Operating income was $6.8bn for Q4 and $22bn for 2019; net income was $6.9bn and $21bn respectively. In fact so much money has been rolling in that Chipzilla increased its per-share annual dividend to $1.32, an increase of five per cent.
Intel generated $33.1bn in cash from its operations in 2019 and $16.9bn in free cash flow while routing about $19.2bn back to shareholders. In Q4 2019, Chipzilla's cash machine created $9.9bn and dispensed $1.4bn in dividends, with another $3.5bn going to buy back Intel shares to support the share price.
The chip maker's revenue is split more or less evenly between its data-center business (DCG) and its PC-centric trade (CCG). However, its data-center, sorry, -centric business is expected to grow faster than its counterpart.
Broken down by segment, Intel's results were as follows:
| Business Group | Q4 | +/- | 2019 | +/- |
| --- | --- | --- | --- | --- |
| DCG | $7.2bn | +19% | $23.5bn | +2% |
| IOTG | $920m | +13% | 3.8bn | +11% |
| Mobileye | $240m | +31% | $897m | +26% |
| NSG | $1.2bn | +10% | $4.4bn | +1% |
| PSG | $505m | -17% | $2bn | -6% |
| CCG | $10bn | +2% | $37bn | flat |
PSG is the programmable systems group (think FPGAs, etc), NSG is the non-volatile memory group, and IOTG is the Internet-of-Things wing. Mobileye does AI technology for self-driving cars.
We note that, in Q4, DCG's cloud sales were up 48 per cent, year on year, as Intel prioritized Xeon server parts for hyperscalers, while enterprise and government sales were down seven per cent. Revenues from communications providers increased 14 per cent.
Faced with questions from analysts on Intel's earnings call about the company's long-delayed 10nm chips, Swan offered reassurance. "We're ramping 10nm the second half of the year and we're investing in 7nm," he said, claiming Intel will have nine new products this year based on 10nm technology.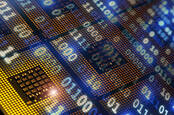 Intel server chip shortages continue to bite: HPE warns of Xeon processor supply drought for the whole of 2020
READ MORE
The much-delayed 10nm chips won't represent a large portion of the company's overall volume until 2021, he said, adding that yields have been better than expected, though neglected to say what was expected.
Swan also emphasized how AI-tuned systems have contributed to Intel's results, noting that in 2019, the company realized $3.8bn in AI-based revenue.
A longstanding issue for Intel has been its inability to meet market demand for its chips. Swan said Intel plans to add 25 per cent more wafer capacity this year. "Overall, we really plan to be out of the supply-constrained environment in 2020," he said, allowing that Q2 might still be a bit tight.
"Intel had a great Q4 in spite of increased competition and supply challenges," said analyst Patrick Moorhead of Moor Insights and Strategy, in an email to The Register.
"The 'data-centric' businesses carried the day with each business driving double digit growth, except for FPGAs. Even PCs were up, which was a big surprise for me. The biggest things Intel needs to do to keep this going is to get out its next generation 10nm designs out and in-market." ®