This article is more than 1 year old
Accounting expert told judge Autonomy was wrong not to disclose hardware sales
Mind you, he was instructed by HPE
Autonomy trial HPE's accounting expert told the High Court that making "significant sales of hardware" and burying them in its accounts meant Mike Lynch's Autonomy may have given "the impression" sales growth "was in its core software business".
As the dust settles from the Autonomy trial itself, The Register has taken a look at the expert accounting evidence on one of the critical issues at the heart of the High Court case: was Autonomy's accounting dodgy?
Both sides hired expert accounting witnesses to go through the mountains of disclosed evidence and produce a report showing why their side was right assist judge Mr Justice Hildyard in understanding the fiendishly complex bean counting arguments.
Unsurprisingly, the two differed on whether Autonomy ought to have broken out its hardware sales as a separate item in its published accounts. HPE claims this failure to separate high-margin software sales from low-margin hardware sales was one of the key reasons it was duped into buying Autonomy.
HPE's case against Lynch and Hussain on accounting breaks down to these points:
Some hardware sales were undisclosed in Autonomy's accounts and also made a loss
Some of those were "pure" hardware sales, in contrast to Autonomy's claims to have been a software company or to be selling appliances
Lynch and Hussain set out to "artificially inflate" Autonomy's books with skewed accounting
Some Autonomy resellers were part of a carousel of contra deals, where Autonomy paid a reseller only for that cash to be paid back, generating the fake appearance of real sales
Hosting revenues were improperly accelerated through upfront fees disguised as software licences
OEM revenues included a number of sales that weren't to OEMs embedding Autonomy software into their own products, making the reported revenues misleading
Lynch and co-defendant Sushovan Hussain deny all of HPE's allegations of wrongdoing.
Counting the beans, one sale at a time
HPE brought in Peter Holgate, the man who wrote PricewaterhouseCooper UK's in-house International Financial Reporting Standards (IFRS) manual, while Lynch instructed Gervase MacGregor, a leading light from accountancy house BDO (not to be confused with the British Darts Organisation).
The two experts agreed that Autonomy "was required to follow IFRS". Deloitte, Autonomy's auditor at the time of the 2011 buyout, created what Macgregor described as "working papers" – papers which Holgate, HPE's expert, said he hadn't seen, writing that "my opinions are given on the basis of the facts I have been instructed to assume".*
In contrast, Lynch's man MacGregor said: "Deloitte's working papers contain arguably the most valuable detailed analysis relating to the facts and judgements reached at the time," adding that these were "untainted by hindsight".
Meanwhile, Holgate pulled no punches in his full expert witness report when he said Lynch and Hussain were wrong not to break out hardware sales from everything else Autonomy sold. Castigating the firm, the accountant stated:
This is because (a) hardware and software have such radically different profit margins; and (b) starting to make significant sales of hardware gave Autonomy the ability to increase its revenue in a way that, without separate disclosure of hardware sales, gave the impression that the growth was in its core software business.
Mr Justice Hildyard commented in court: "If the purpose, or a sufficient purpose, of the hardware sales was to assist software sales, that was the conclusion which, in the view of these auditors, warranted not having a separate category of hardware sales."
The judge continued, addressing HPE's legal team: "Your expert recognised that whilst it's not what he thinks he would have done, that it wasn't improper in the sense of being beyond what a reasonable auditor could have imagined, in which case, that's that, isn't it?"
Below is the court's working copy of International Accounting Standard 18, or IAS18, as used by the two experts when agreeing their joint statement.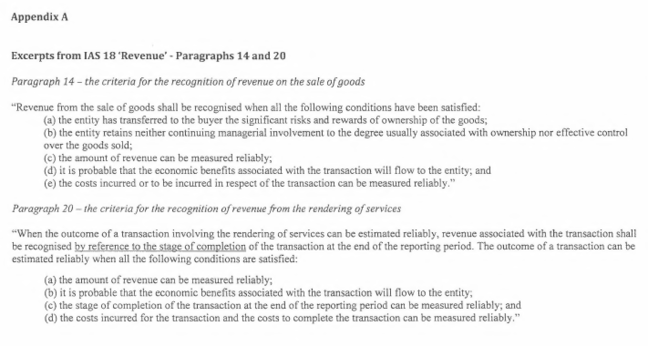 Click to enlarge
The Register will continue deep-diving into each expert's detailed reports and their courtroom testimony over the coming days. ®
Updated to add at 1842 GMT
* Holgate was given several sets of specific assumptions - around a dozen each time - to follow when assessing various categories of Autonomy sales. These detailed assumptions form part of the next article looking at expert witness testimony.