DEF CON is cancelled. For real this time. DEF CON China, that is.
The Middle Kingdom edition of the computer hacking conference has been called off due to the nation's latest coronavirus outbreak.
The cancellation – or postponement, depending on how optimistic you want to be – was announced by the DEF CON team on Monday, a little more than ten weeks before the confab was scheduled to take place in Beijing. This was to be the second annual outing of the DEF CON event in the Middle Kingdom.
"China has announced a six-month hold on events like ours as part of the effort to combat the coronavirus outbreak," the DEF CON team said. "We regret inconveniencing any of you. Know that we are committed to holding the event once it's safe to do so."
Further adding to the confusion was that one of the traditions of every DEF CON event is netizens spreading fake "DEF CON is cancelled" rumors. Well, this time it's real, though DEF CON China only.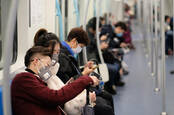 Finally, a technology angle on the coronavirus outbreak: Semiconductor biz stocks slip amid China supply chain fears
READ MORE
While the organizers hope to be able to reschedule the conference at some point later this year, it remains to be seen just when China will lift its internal travel bans and city-wide lockdowns that have made holding events in the country now virtually impossible. Nations including the US have also warned citizens against visiting China.
Quarantines and panic from the outbreak are also having an effect on other technology sectors. Investors and analysts have expressed worry that the killer outbreak may have an effect on semiconductor manufacturing as Chinese factories shutdown, workers get ill, and shipments stall.
The nation also has more pressing matters to address at the moment, as the novel coronavirus, apparently originating in a wet market in the city of Wuhan, continues to claim lives. As of Tuesday, the official death toll from the virus had reached 106 as verified cases in China surpassed the 4,500 mark – and that's if you trust Beijing's figures. The country's rulers quickly acted to shut down bloggers and journalists revealing too much about the infections, and is now attempting to contain the virus and build hospitals to treat the sick.
While most cases of infection remain confined to the Hubei region of China, cases of the novel coronavirus have been confirmed in other parts of the world, including five in the US, with other infections in Australia and Europe. Thus far, there have been no reported deaths from the virus outside of China.
Finally, the genome sequences for the virus, 2019-nCoV, have been documented. This 125nm bio-nasty is too heavy to stay in the air for long, and seems to be mostly spread by coughs and sneezes. It takes two to 14 days for its pneumonia-like symptoms to show, and during this time it may be contagious. ®