Use our stuff for free and sell your application? That's Qt. Time to give something back
Terms for open-source C++ toolkit tweaked to encourage contribution
The Qt Group is making changes to the terms under which its popular open-source Qt library is available to encourage more commercial licensees and a higher level of contribution from users.
Qt is a cross-platform C++ framework with official bindings for Python as well as community support for many other languages. It is suitable for embedded, mobile and desktop applications, and the company provides design tools (with support for the QML language for defining a user interface) and an IDE that runs on Windows, Linux and macOS.
It has several commercial and open-source licences: LGPL3, GPL2 and GPL3. As with many businesses based on open-source projects, it sounds as if the company is experimenting to find the right balance between the open-source ethos and what is best for business. Petteri Holländer, senior veep of product management, has posted about the changes. Specifically:
Installation of Qt binaries will require a Qt account
Offline installer and Long Term Support (LTS) releases will only be available to commercial licensees
A new licence aimed at "start-ups and small businesses" has been introduced, costing $499 per annum. This is a full commercial licence including development tools, but deployment licences are extra.
The rationale, spelled out in this document (PDF), is that the company wants to steer more users towards commercial licences while also doing all it can to persuade open-source users to contribute rather than merely enjoy the software for free. Insisting on an account, the company says, will encourage users to "help improve Qt in one form or another" since the bug reporting, code reviews and forums are only accessible with an account.
In addition: "It lets us open a dialogue with companies that earn money with products built with an open-source version of Qt."
Similarly, restricting the LTS version to commercial users means that those relying on open-source licences will need to upgrade frequently, encouraging participation.
This also means that the development process is changing so that all tweaks will now be merged first to the development branch, and then selectively back to "relevant older releases". This means that releases other then LTS will not get all the fixes.
In case you missed the message, if you download the open-source version you are first directed to a page stating: "In return for the value you receive from using Qt to create your application, you are expected to give back by contributing to Qt or buying Qt." There are also reminders of the general obligations imposed by using LGPL or GPL licences.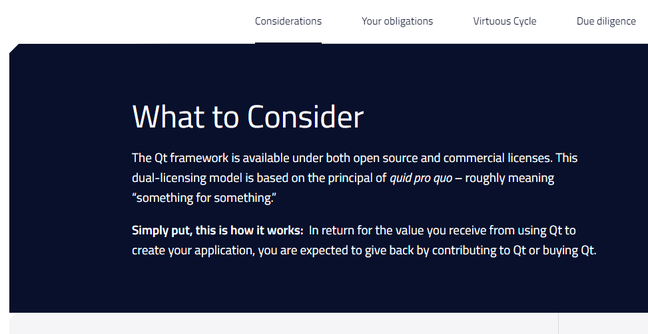 Qt asks open-source users to consider their obligations
Holländer said: "We believe that these changes are necessary for our business model and the Qt ecosystem as a whole."
The Qt business is based in Finland and has changed hands a few times. It started as Trolltech in 1995, was acquired by Nokia in 2008, sold to Digia in 2011/2012, and demerged from Digia in 2016. Its latest interim statement, for the July to September period of calendar '19, shows year-on-year revenue growth of 36.8 per cent to €14.7m, an operating margin of 0.5 per cent, and a loss per share of €0.01, which the CEO attributes to "growth investments". Headcount increased from 295 to 339. The fact that revenue is growing nicely suggests that the company's open-source strategy is working fine. ®