Finally, a technology angle on the coronavirus outbreak: Semiconductor biz stocks slip amid China supply chain fears
As Chinese cities go into quarantine, investors get nervous over the lockdown of the world's workshop
---
Stocks in a bunch of semiconductor companies dipped by four to five per cent on Monday – after China banned travel in and out of the manufacturing hub of Wuhan to isolate the new coronavirus that has already killed more than eighty people.
Named 2019-nCoV, this novel coronavirus has an incubation period of two to 14 days, during which time it may be contagious, and has pneumonia-like symptoms: coughing, fever, sore throat, and breathing difficulties. More than 2,700 infections, and 82 deaths, have been officially reported in China, where 60 million people are in full or partial quarantine to control the spread of the bio-nasty.
More than 50 cases have been reported outside mainland China, too, including five in the United States, mirroring the eruption of SARS, a coronavirus that spread from the Middle Kingdom circa 2002.
The surge of 2019-nCov in China has been tricky to track since Beijing censors chatter about the virus and battles to downplay the full extent of the coronavirus. Although some social media posts are let through, others are scrubbed from the internet in China. Meanwhile, the killer outbreak's effects have caused a ripple in America's stock market.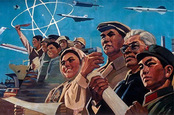 China responsible for just, oh, 20% of global semiconductor revenue in 2018, no biggie
READ MORE
The Philadelphia Semiconductor Index, covering major chip businesses, fell 3.91 per cent on Monday, slipping faster than other sectors such as technology and oil and gas, and marking its biggest drop since August. This dip has been linked by Wall Street analysts to investors getting jittery over the Wuhan travel ban and quarantine, which came into effect last week. The Chinese new year was also celebrated this weekend, and other cities in China have been put on lockdown, we note, which will likely have added to a slowdown in production.
Wuhan, the capital of Hubei province, is a major transport hub and manufacturing center in China. The city is home to factories that build everything from optic-fiber cables to NAND flash memory to car parts. Yangtze Memory Technologies, for instance, is based in Wuhan, and ordinarily churns out flash memory for all sorts of electronic gizmos.
Shareholders seem concerned that Western semiconductor companies in any way linked to the manufacturing output in Wuhan, and China as a whole, will be affected financially by the mass quarantining. Any significant closure of factories and restrictions on businesses, shipping, and travel in the Middle Kingdom affect supply chains globally, after all.
Shares in FPGA designer Xilinx were down by 3.77 per cent. Intel, Nvidia and Broadcom sunk over four per cent, while Marvell took a bigger hit of more than five per cent. Spokespeople for these companies were not available for comment.
Western Digital and Micron were also down more than four per cent, we note. These stocks may bounce back if investors figure non-Chinese manufacturers will benefit from China's turmoil. ®