This article is more than 1 year old
AMD really, really wants you to know its chips are doing OK without any help from Intel and its supply issues
'We finished 2019 very strongly – but that is on the strength of the product portfolio' says CEO Lisa Su
AMD is touting record quarterly numbers as the chip designer closed out a solid fiscal 2019.
Both the quarter and the full year brought high water marks in revenue. For the fourth quarter, ended December 28:
Revenues of $2.13bn were up 50 per cent from the year-ago quarter and ahead of analyst estimates at $2.11bn.
Net income was $170m, up from $38m in Q4 FY 2018.
Non-GAAP EPS was $0.32, a four-fold increase from last year's $0.08 return and topping estimates of $0.31.
Computing and Graphics revenue was the big winner, with $1.66bn revenues, up 69 per cent from the year-ago quarter.
Enterprise, embedded, and semi-custom (game console) revenues were $465m, up seven per cent. AMD said it expects semi-custom sales to be slow through the next quarter, putting pressuring on the Epyc server line to bring in the bacon.
"Other" businesses rang up a $57m loss, better than last year's $81m loss.
On the full year, also ended December 28:
Revenues weighed in at $6.73bn, up four per cent from $6.48bn in 2018.
Net income of $341m was slightly up from $337m last year.
Non-GAAP EPS was $0.64, up from $0.46 last year.
Computing and Graphics full-year revenues were $4.7bn, up 15 per cent on $4.1bn in 2018.
Enterprise, embedded, and semi-custom sales were $2.0bn, down from 15 per cent from $2.35bn thanks to the slowing console sales with new releases on the horizon, and apparently boosted by Epyc sales.
Other losses were $209m, worse than the $182m loss in 2018.
"2019 marked a significant milestone in our multi-year journey as we successfully launched and ramped the strongest product portfolio in our 50-year history," said AMD supremo Dr Lisa Su.
"We delivered significant margin expansion and increased profitability as we gained market share with our Ryzen and Epyc processors."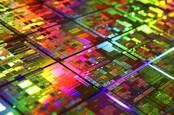 10nm woes, CPU supply shortages, competition from AMD... What? Sorry? Intel can't hear you over the cash register going bonkers
READ MORE
AMD's surging sales in the PC CPU and graphic card spaces came as the chip designer's top rival, market-leader Intel, prioritized high-margin cloud and data-center components over low-end desktop silicon, sparking chip shortages in PC land and some enterprise corners.
Such a drought should be a boon for AMD and its Ryzen and Epyc processors. In a discussion with Wall Street analysts, though, Dr Su downplayed the role Intel's supply backlog has had in boosting her company's bottom line.
"When we look at the PC market, we finished 2019 very strongly, but that is on the strength of the product portfolio," Dr Su offered. "There are some discussions about pockets of shortage, but we have been on this steady increase in market share for the last eight quarters, and we see the portfolio getting stronger."
AMD and Intel will continue to go head to head in the coming year, pitting their desktop and data center parts against each other. AMD curiously declined to say anything too specific about its server-grade Epyc processors, though, other than the product line grew double-digits sequentially, which doesn't mean an awful lot.
In the short term, AMD is taking a hit. The lower-than-expected forecast for the first quarter of 2020 disappointed investors, and AMD shares were at $48.36 in after-hours trading, down 4.3 per cent. ®